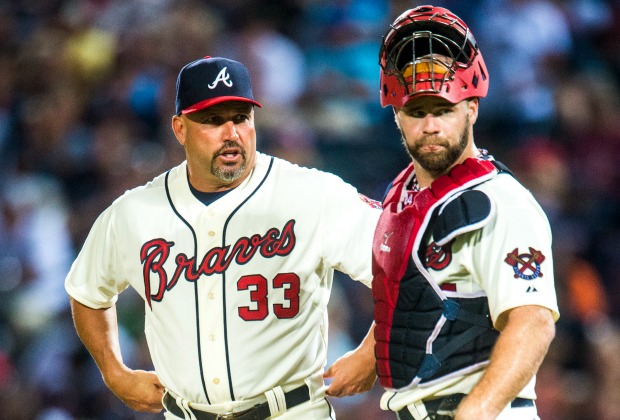 Pouya Dianat/Atlanta Braves
The Atlanta Braves needed a win on Sunday and a loss by the St. Louis Cardinals in order snag the No. 1 seed in the National League playoffs and home-field advantage en route to the World Series. Atlanta took care of its business, hammering the Philadelphia Phillies 12-5, but St. Louis rolled over the Chicago Cubs 4-0.
As such, the Braves (96-66) finished with the second-best record in the league and will contest their divisional playoff series against the third division winner—the Los Angeles Dodgers (92-70).
You may not find two more similar teams in all of baseball than Atlanta and Los Angeles. They finished first and second, respectively, amongst all of Major League Baseball in ERA. Five teams in the NL gave up fewer than 600 runs during the regular season. Not coincidentally, those five are the five playoff representatives. Only the Braves (3.17 ERA, 548 runs allowed) and Pittsburgh Pirates allowed fewer runs than the Dodgers (3.26 ERA, 582 runs allowed).
Atlanta and Los Angeles were also two of the streakiest teams in baseball, interspersing incredible hot streaks with bouts of mediocrity. The Braves won 12 of their first 13 games and went on an eight-game surge in May. They came out on the winning end of 14 straight contests in late July and early August to all but wrap up the NL East. The Dodgers came out of the all-star break by winning 10 of 11 games, 15 of 17 and an incredible 25 of 28. That helped overcome a start in which they had records of 7-10, 13-21 and 30-42.
These two historic franchises also saw rookies take the baseball world by storm at various points in 2013. Atlanta's Evan Gattis went deep 21 times—many of the heroic variety late in games—and drove in 65 runs despite having just 350 at-bats in 105 games. Yasiel Puig of the Dodgers batted .319 with 19 dingers and 42 RBI after being called up to the majors on June 3.

Like the Braves (13-14 in September), the Dodgers are not playing either their best or worst baseball heading into postseason play. They compiled a 12-15 record in September after losing four of their last five games. Shortstop Hanley Ramirez hit .370 in September with five home runs are 11 RBI. Third baseman Juan Uribe's month featured a .307 batting average, five homers and 13 RBI.

Game 1 and 2 of the divisional series will be at Turner Field on Thursday and Friday.
Atlanta's Kris Medlen will oppose L.A. ace Clayton Kershaw in the opener. Medlen (15-12, 3.11 ERA) has made seven consecutive quality starts dating back to August 23 and he is 5-0 in his last six outings. Kershaw (16-9, 1.83 ERA) has made 16 quality starts in his last 17 appearances. The southpaw enters the postseason on a scoreless streak of 13 innings.

Game 2 pits Atlanta's Mike Minor (13-9, 3.21 ERA) against L.A.'s Zack Greinke (15-4, 2.63 ERA).