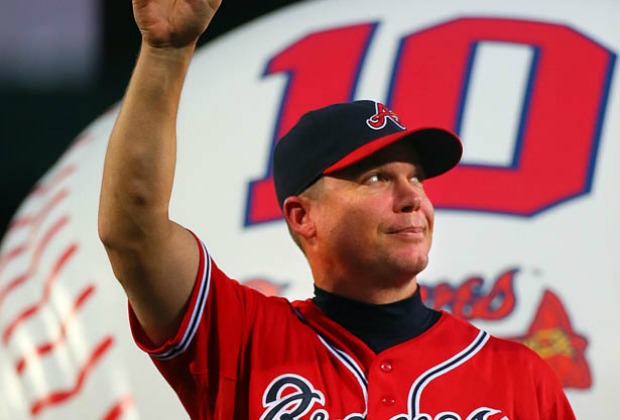 Curtis Compton/AJC
The Atlanta Braves announced Tuesday plans to retire former third baseman Chipper Jones' No. 10 in a cermony on June 28 and induct him into the team's Hall of Fame that afternoon. The team will hold the ceremony at the Atlanta Marriott Marquis, then honor Jones in a pregame ceremony before facing the Arizona Diamondbacks.
"Chipper was a Brave from the beginning to the end of his career and his legacy will forever live in our record books," said Atlanta Braves President John Schuerholz in a statement released by the team. "There is no greater honor that we can bestow upon him than to induct him into our Hall of Fame and retire his iconic number 10."
The Braves organization has retired nine previous numbers including Hank Aaron (44), Eddie Mathews (41), Dale Murphy (3), Phil Niekro (35), Warren Spahn (21), Greg Maddux (31), Tom Glavine (47), Bobby Cox (6) and John Smoltz (29). All of Major League Baseball retired the No. 42 to honor Jackie Robinson. Jones will be the 25th member of the Braves Hall of Fame, joining former teammates Smoltz, Maddux, Glavine and the only manager he ever played for in the big leagues, Cox.
Jones certainly earned his spot in the Braves Hall of Fame, and he has made his case for inclusion in Cooperstown over his 19 years in the Majors. Jones was an eight-time All-Star who won the NL MVP in 1999. He would later win the National League Batting title in 2008 to go with a pair of Silver Slugger awards. He also is the only switch hitter ever to average .300 while knocking at least 300 home runs. He owns 11 Braves franchise records and is second in seven more.
Jones has been seen at the team's spring training facility as a guest instructor.
CALL OF DUTY
The entire team finally arrived last week and the spring training schedule kicks off today as the Tigers visit the Braves' spring training facility in Kissimmee. The Yankees will travel to Champion Stadium at ESPN Wide World of Sports Saturday, then Atlanta heads out to Bradenton to face the Pirates before returning for exhibition games against the Marlins and Nationals. The team will then travel to face the Tigers in Lakeland and the Phillies in Clearwater this Wednesday and Thursday, respectively.