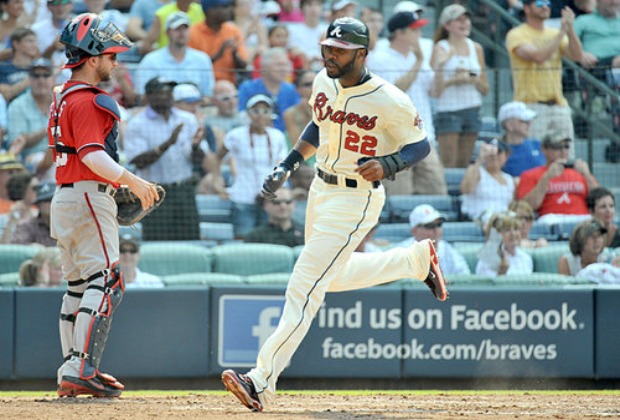 Hyosub Shin/AJC
At first pitch the sun was bearing down on Turner Field with some speculating that it was at least 106 degrees on the field. The heat would come into play early when Nationals pitcher Stephen Strasburg had to leave after the third inning, trailing 3-2. Strasburg was seeking his third win of the year over the Braves, but instead Atlanta saddled the 23-year-old with his second straight loss, beating Washington 7-5 Saturday.
The three-inning outing was the shortest of Strasburg's career, and he left after recording four strikeouts and four walks on 67 pitches.
Braves starter Mike Minor surrendered two early runs then was the beneficiary of seven runs through the first five innings. The Braves pounded out five doubles and seven different Braves drove in runs. Jason Heyward, Dan Uggla, Juan Francisco and Michael Bourn each contributed an RBI double. Andrelton Simmons recorded three hits and scored one run. Bourn, meanwhile, stole two bases, bringing his season total to 22.
Minor lasted into the sixth inning before being lifted with two runners on base. His final stat line had him throwing five innings, allowing five hits, four runs, five walks and two strikeouts on 85 pitches.
"I think we took a step forward with him today," said Fredi Gonzalez of Minor. "He compete his butt off today and gave everything he had."
"I'm just trying to do my best every time I go out there and try to give the team a chance to win," said Minor.
Craig Kimbrel notched his 23rd save of the season, recording two strikeouts in the process. The win moved Atlanta's record to 35-44 against Washington since 2005. The Nationals hold an 2-1-1 series record against the Braves since 2008.