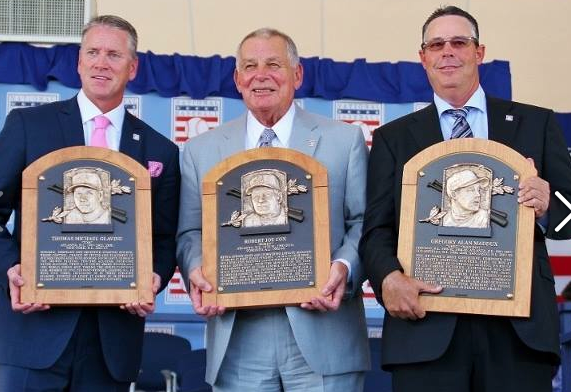 Photo by Rob Saye
The Baseball Hall of Fame ceremony belonged to the Atlanta Braves. On Sunday three Braves, including manager Bobby Cox and pitchers Tom Glavine and Greg Maddux, took their places in history together during the induction. In only two other instances has a Hall of Fame class included three inductees from the same organization: the 1946 Cubs (Frank Chance, Johnny Evers and Joe Tinker) and the Reds' (Sparky Anderson, Bid McPhee and Tony Perez) in 2000. However, the Braves were the first living trio to be enshrined together.
Glavine and Maddux combined to win 660 games, six Cy Young's, and are the first pair of living 300-game winners to be enshrined in the same year. What made them so unique were their different styles of pitching. Glavine thrived on the edges of the strike zone, while Maddux utilized confounding movement.
Maddux, a four-time CY Young winner and 18-time Gold Glove winner in a 23-year career, finished with some outstanding accomplishments. He won 355 games, finishing eighth on the all-time win list and had a walk rate of 1.8 per nine innings, which is fifth amongst pitchers who threw at least 3,000 innings. He's also the only pitcher with 300 wins, 3,000 strikeouts and less than 1,000 walks.
Glavine led the majors in starts six times, five times in wins, and was in the top 10 in the National League in innings pitched on 12 occasions. He won 305 career games, two Cy Young's, and was named MVP of the 1995 World Series versus the Cleveland Indians.
Bobby Cox helped turned the Braves' organization into a dynasty during his tenure as manager. It began in 1991 leading the Braves to a stunning National League banner after winning 94 games and defeating the Pirates in Game 7 of the championship series. For his career, his teams helped claimed 14 division titles, four World Series appearances ('92, '95, '96 and '99) and accounted for 1,883 of his 2,504 career wins, which is fourth on the all-time win list for managers.
However, what really makes this trio special is the World Series title they brought to the city of Atlanta. In 1995, the Braves won in six games over the Indians. Maddux won Game 1 of that series 3-2 pitching a complete-game, allowing only two hits and no earned runs. Glavine pitched eight innings only allowing one hit in Game 6 to close out the series. Bobby Cox, Greg Maddux and Tom Glavine won the Atlanta Braves their first and only World Series championship. This trio will always be remembered and cherished for the success brought to their organization.