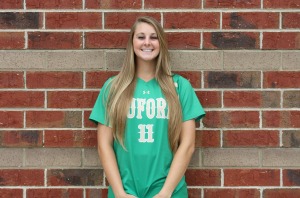 Photo by Brad Brown
Buford senior pitcher Bria Bush is this week's Children's Healthcare of Atlanta Girls Athlete of the Week for her outstanding high school career. With a career ERA (to date) of 0.86, Bush's achievements in softball made committing to the school of her dreams possible early in her high school career. Bush got early interest from major colleges across the nation, including the Tennessee Volunteers, to which she committed as a sophomore in November of 2012.
Throughout her high school career, Bush continued to prove that Tennessee made the right choice with the early offer. With an overall record of 64-7 to date, the right-hander has pitched Buford to three straight state championships and the Wolves have a good chance of winning their fourth straight ring at the end of this season.
There was no better time for Bush to toss her second no-hitter of the season than on Senior Night when she led the Wolves to a 12-0 victory over Chestatee.
Buford enters the Region 8-AAAA tournament as the No. 1 seed and will host the second and third rounds. Round 1 begins today. On Saturday the winner of the 4/5 series will travel to Buford to play the Wolves in a best-of-three series.
The Lady Wolves are currently 26-1 overall and 8-0 in the Region 8 and there is no question that Bush (12-0, 0.57 ERA) has played an integral part of the squad's success. The Wolves are ranked No.1 in Class AAAA and are the odds-on favorites to take home another state title.