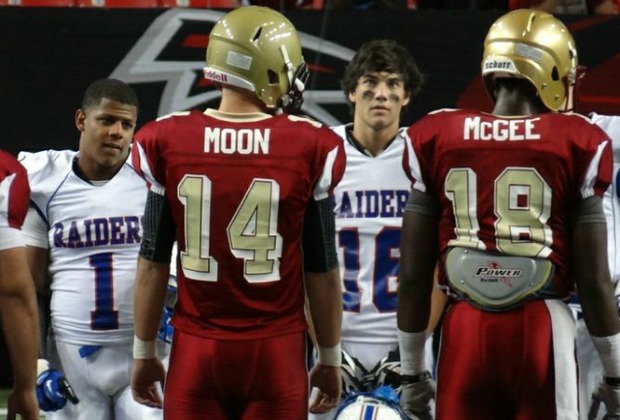 Walter Pinion
Gwinnett County is home to some of the best players in the state and Central Gwinnett boasts one of the top linebackers in not just Georgia, but the entire country. Trey Johnson headlines the Black Knights' attack, and the future Auburn Tiger tallied 11 tackles against Grayson in Central Gwinnett's recent loss to the No. 3 team in Class AAAAAA. J.B. Ezzell had 10 tackles in that game and Orlando Banks also contributed with 11 takedowns.
The Central Gwinnett offense has been stellar the last few seasons with Eman Westmoreland under center, but the senior is still recovering from an ankle injury that sidelined him during the Grayson game. Westmoreland played last week against Archer despite the sore ankle, totaling 171 yards and one touchdown in a loss. He set the Gwinnett County record for passing yards by 61 yards and currently sits at 1,195 yards on the year. He also owns the touchdown mark of 63 scores and counting. While he has seen some weapons disappear in recent years due to graduation and transfers, he still has Justin Brownlee, who recorded 121 yards on five receptions earlier this year against South Gwinnett.
RUNNING BRONCOS 
The Brookwood Broncos have one again found a potent running game with Jamaal Cole and Josh Brown offering a huge punch out of the backfield. Cole was expected to shoulder much of the load this season, but Brown has also proven to be quite the touchdown machine. In the team's recent win over Dacula, Brown found the end zone four times while Cole rushed for 95 yards while providing 184 all-purpose yards. Zach Moon and found a nice connection with future N.C. State receiver Ky Priester. The senior receiver hauled in four passes for 78 yards and one score in addition to a 38-yard kick return and a 42-yard punt return against Dacula. Moon threw for 163 yards and a pair of scores last week in the win over Shiloh.
On the defensive side of the ball, UGA pledge Shaun McGee has missed some time with an injured ankle, but Eric Rawls Chris Dancy, Matt Price and Liam Trainor have stepped up for Mark Crews' team.
Central Gwinnett owns a pair of impressive wins, taking out Collins Hill and Clarke Central to open the year, but the Black Knights must get back on track in Region 8-AAAAAA play if the playoffs are to remain a possibility. Brookwood still has to face South Gwinnett and Grayson to end the season, so this game will have huge playoff implications as neither team can afford another region loss.