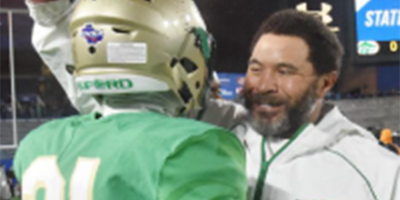 Bryan Appling coached Buford to a state title in his first season. (Hyosub Shin/ hshin@ajc.com)
The 28th episode of the "Georgia Prep Sports: From a Distance" video podcast features Buford head football coach Bryant Appling, who capped off his inaugural season with the Wolves by winning the Class AAAAA state championship last season.
Host I.J. Rosenberg, the president of Score Atlanta, will also have Denmark High School athletics director Jamie Corr, who has over 20 years of athletics experience between his time as a physical education teacher and baseball coach. Also joining the show will be Eagle's Landing Christian Academy football coach Jonathan Gess, who is heading into his 14th season with the Chargers, and has won six state titles (2012, 2015-2019).
The podcast is produced by PlayOn Sports, which runs the National Federation High School network, and airs Mondays, Wednesdays and Fridays, starting at noon.
Follow the link to watch.