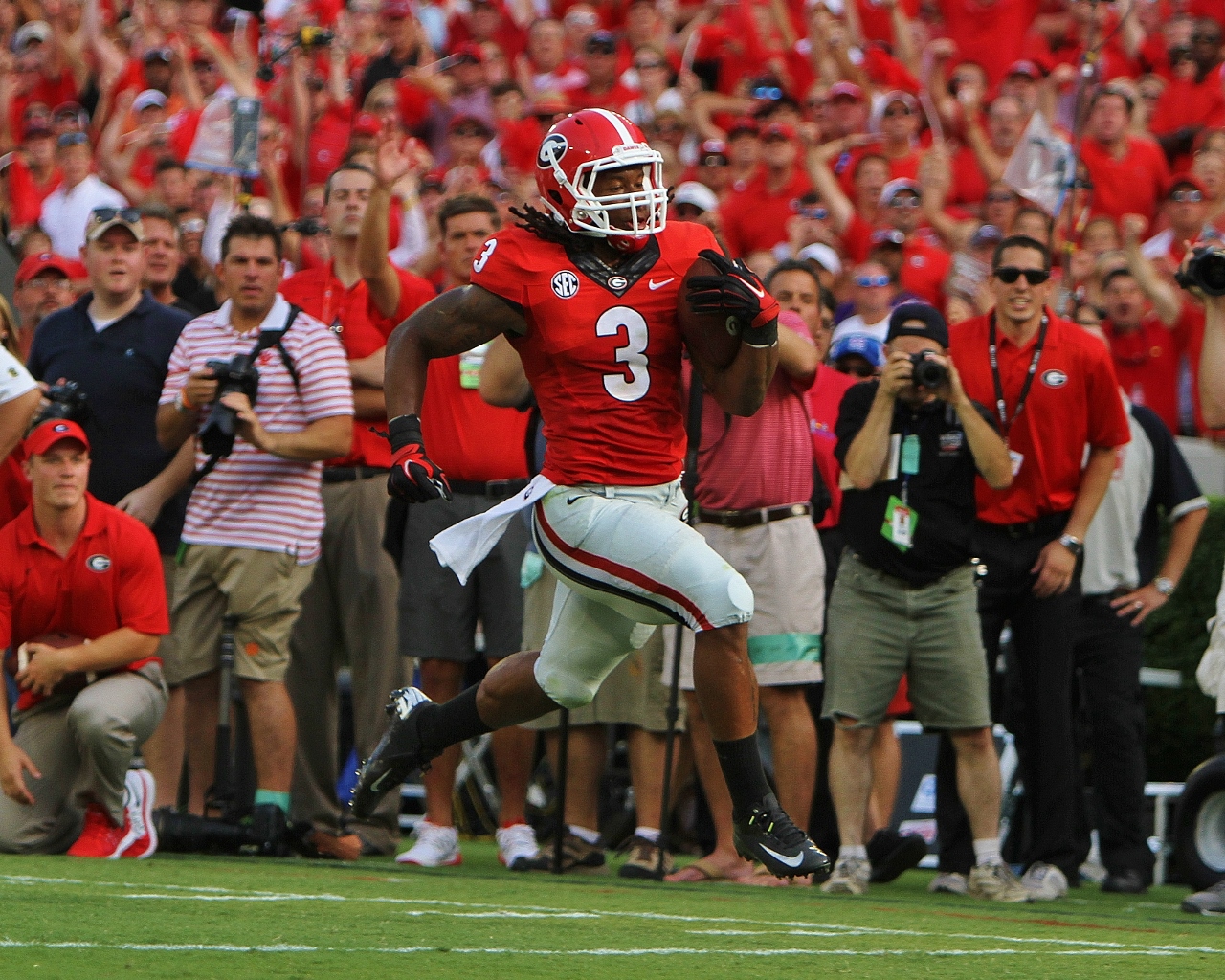 Photo by Rob Saye
Georgia came into Saturday afternoon against South Carolina with high hopes, following their dismantling of Clemson two weeks prior. The end result in Columbia didn't go their way, with the Gamecocks holding on to win this one 38-35.
The time of possession battle became even more of a killer to the Bulldogs hopes to win this game, with South Carolina controlling the football for almost three more minutes than Georgia did on offense. Also, the Gamecocks were able to run the ball for about 120 more yards in the second half.
You couple these facts with the chances that Georgia had to score, like starting a drive on the Gamecocks four yard line and coming away with a missed field goal by Marshall Morgan. That was after senior corner back Damian Swann intercepted South Carolina quarterback Dylan Thompson in the fourth quarter. Plus, the Bulldogs had a miss earlier in the game by Morgan. The Bulldogs also had a first half long Todd Gurley touchdown run negated by a holding penalty by left guard Brandon Kublanow. Georgia punted on that possession. That is 13 points that were left on the board by Georgia.
South Carolina's offense put up 447 yards of total offense against a defense that held Clemson to 291 yards two weeks prior. Dylan Thompson put up 240 yards passing in the first 30 minutes of the game. Damian Swann says those yards are not what South Carolina was doing on offense, but what the Georgia defense wasn't.
"We weren't matching patterns like we're supposed to match them and guys were having windows to get open," Swann said. "We're going to learn from this tape. We're right back at it tomorrow and we're going to get better."
Swann was on the Georgia team in 2012 that came back to win the SEC East, after being blown out by South Carolina inside Williams-Brice Stadium. He and fellow senior Ramik Wilson are part of the group of Bulldogs staying upbeat despite the loss. The linebacker knows there's still plenty of football to be played.
"We've got a lot of veteran guys like myself that have been through this before and we've been down," Ramik said. "Coach Pruitt has been on national championship teams that have lost games. We know what we need to do and we're going to get much better."
Back to that first and goal from the four yard line that Georgia had late in the game… Quarterback Hutson Mason was whistled for intentional grounding on the first play following that Swann interception. Mason didn't mince words when saying that he did not agree with the call that was made by the officiating crew.
"We felt like we had a good play call," Mason said. "We ran a little toss sweep boot and they had it played well, so I threw it at Quayvon (Hicks) feet. Quayvon was going out for a route and I'm pretty confused on why they that's intentional grounding."
After the game, head coach Mark Richt says he would have definitely done things differently.
"If I would have to do it again we would have hammered it," Richt said.
Richt is of course pointing to their running game, mainly running back Todd Gurley. The Bulldogs star player finished the night with 131 yards on the ground with a touchdown.
Like Swann and Wilson, Gurley was part of the team that lost in 2012 and came up just short of reaching the national title game. His frustration was high after such a tough loss.
"It's the same thing all over again and you just get tired of losing," Gurley said. "You just get tired of getting let down. But, we're going to move on and we're going to bounce back. We're going to get it right."
The Bulldogs might have lost by three points on Saturday night and their kicker Marshall Morgan did miss two field goals. However, after the game he did not run and hide from the questions from the media. He stood right in there and took the questions.
"After every kick I usually forget about it," Morgan said. "I can't say that I'm going to forget about this whole game. But, I try to keep it out of my head and just look to the next kick. So that's the next game we've got."
That next game comes next Saturday in Athens, when the Trojans of Troy University go 'Between The Hedges.' This is a tough loss, however Georgia does seem to have a pretty good outlook on the rest of their season. Heads were not hanging too low and now they're talking about what they can still do with this 2014 season.