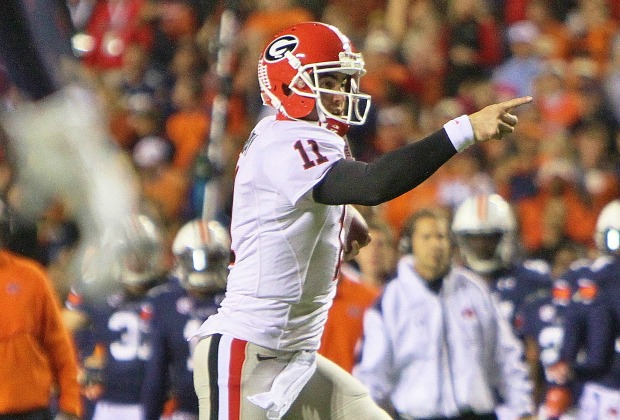 Rob Saye
A week after defeating Georgia Southern 45-14, the third-ranked Georgia Bulldogs will play host to the Georgia Tech Yellow Jackets this weekend, in a game that will kickoff at 12 p.m. on ESPN.
The Bulldogs moved up two spots in the BCS rankings over the weekend to the No. 3 spot due to losses by No.1 Kansas State and No. 2 Oregon. These events have Georgia two wins away from a BCS National Championship appearance. However, Mark Richt and the team remain focused on this week's opponent.
"I'm thinking that we need to have a great week of preparation for Georgia Tech," said Richt while deflecting BCS-related questions during his Sunday teleconference. "Right this minute, all I can think about is Georgia Tech. The only thing I'm concerned about is playing Georgia Tech and trying to have a good game plan throughout the week so we can try to figure out a way to slow down that offense and get some points on the board."
The biggest worry on the mind of Richt is defending Georgia Tech's triple-option offense. Tech has scored 143 points in its past three games, which is all the proof the Bulldogs need to see that this is not a team that should be taken lightly. The Yellow Jackets currently own the nation's third best rushing attack, currently averaging 325 yards a game.
Luckily for the Bulldogs, this week will be the second in a row facing an option offense. The added experience against the option attack should help the Dawgs better defend Georgia Tech's offense.
Also aiding the Bulldogs is the fact their defense has come alive since being called out by senior teammate Shawn Williams for its "soft" play. Since that night, Georgia has allowed 2.76 yards per carry through four games. They allowed 302 to Georgia Southern last week, 100 yards short of their season average of 401 yards per game.
SENIORS HONORED
Saturday's game will also be senior night for Georgia and the last time prominent players such as Shawn Williams and Bacarri Rambo will play between the hedges. Saturday may also be the last game in Sanford Stadium for superstars Aaron Murray and Jarvis Jones. Both still have a year of eligibility remaining, but have had stellar years that may push them to the NFL.