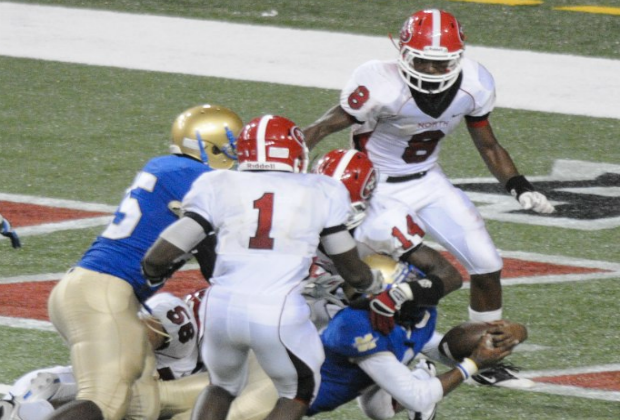 Walter Pinion
The North Gwinnett Bulldogs posted at least 10 wins in each of the past six seasons and won Region 7-AAAAA the past three years. The Bulldogs went 7-0 in their region in 2011, and Habersham-Central will be the only new region opponent added to the schedule in 2012 after the GHSA reclassifications. In order to win a fourth straight region title this season, head coach Bob Sphire will have to guide the Bulldogs through a critical offseason. According to Sphire, the Bulldogs have been in "crisis mode" this entire offseason as 10 of his assistant coaches have accepted new jobs in the last 18 months.
The Bulldogs' success has opened doors for Sphire's coaching staff. "I am extremely happy for each and every one of them," said Sphire. "But it really leaves us short-handed right now."
One of the more notable defections was wide receivers coach and special teams coordinator Troy Hobbs, who will start his first head coaching job at Shiloh next season.
Filling these positions is the big issue and with the opening of Lanier High School down the road in 2010-2011, Sphire's staff and roster has been cut down to its thinnest state yet. Lanier took a large chunk of North Gwinnett's student body, and Sphire has downsized his staff.
The ability and leadership of 2011 Bulldogs starting quarterback Scotty Hosch seems irreplaceable. The 6-foot-3, 200-pound Hosch signed with Harvard and will play for the Crimson this fall, leaving the Bulldogs with a quarterback competition. Senior Michael Haynes currently leads the quarterback battle ahead of Sphire's son and rising junior, Hayden Sphire.
The 2012 season starts off in the Georgia Dome against Colquitt County, who knocked the Bulldogs out of the state playoffs last year. Not even the Hosch-powered offense in 2011 could get it going against the Packers. North Gwinnett was held to just seven points, despite averaging more than 37 up until that point in the season.
Sphire, who is aware 2012 could be a rebuilding year, believes this game will be a wake up call for his team. "Colquitt is an outstanding team all around and they are going to expose all of our weaknesses," said Sphire. "We will know exactly what we need to improve on before our region games start."
Sphire knows they will be huge underdogs in this matchup and hopes his team can learn from playing such a quality team early in the year. The 2012 season will be the biggest test Sphire and North Gwinnett has ever faced.
"We are extremely young and inexperienced, with a smaller roster in terms of numbers and the loss of depth at almost every position. We are going to have to play kids that normally we could have the luxury to develop in junior varsity," said Sphire.
Defensive coordinator and head strength coach Maurice (Mo) Dixon has had his hands full in making sure every defensive player is getting good work in this offseason despite the absence of an assistant coach at most of the positions. As strength coach it is also important for Dixon to take players like Mitch Hyatt, who is only a rising sophomore, and prepare his body to start on the offensive line week one against Colquitt County.
"Hyatt, who we probably would have liked to nurse into things, will now get his first action week one as just a sophomore," said Sphire.
With everything going on and all this uncertainty, Sphire said the focus and plan has to be making sure every day this offseason that the team is improving.
"In this crisis situation, we fall back on the habits that work and the players know what is expected of them this year from how we have always done things here," said Sphire.
One positive is how well the players have dealt with and adjusted to the change and how the Bulldog Nation has supported them. During this spring, the team had six position coaches leave and take new jobs. When the team needed it most, and without Sphire having to ask, last year's seniors and other former players came to help coach during spring practice.
"It was unbelievable how well our players handled things this spring, and how the former players came and helped," a proud Sphire gushed.
The summer continues and the Bulldogs are starting to get their identity and some fight in them before the season kicks off.
"It was what I expected early," admitted Sphire. "We would get thrashed pretty bad in these 7-on-7s on both sides of the ball. I took some of that initial pressure off them and told them to just focus on improving and I can see them developing and getting a fight in their step."
There are some returning starters on the offensive and defensive lines, and Sphire isn't afraid to point out where the positions are that he desperately needs to be filled.
"There will be a lot of shuffling around at positions before we find the guys who can fit and play together," revealed Sphire. "We will not be two and three deep at a position like the past and guys will have to be able to move around if needed."
This will be an interesting year for the Bulldogs. The positive is that Sphire understands what it takes for his team and he believes that they understand as well. Success has not blinded Sphire, and he is 100 percent focused on the tasks at hand in 2012.
"We know there will have to be many young guys playing this season, and we know how important it is for them to mature right away, even if in the past we might given someone more time to develop," said Sphire. "Everyone has to be ready this year."
The Bulldogs scrimmage a very good Stephenson team the week before they take part in the Corky Kell Classic at the Georgia Dome against Colquitt County. Sphire hopes there is enough fight in this Bulldog team to continue the high level of winning. With all of the young players getting experience this year, Sphire could be entering next offseason with a battle-tested group loaded with returning talent.