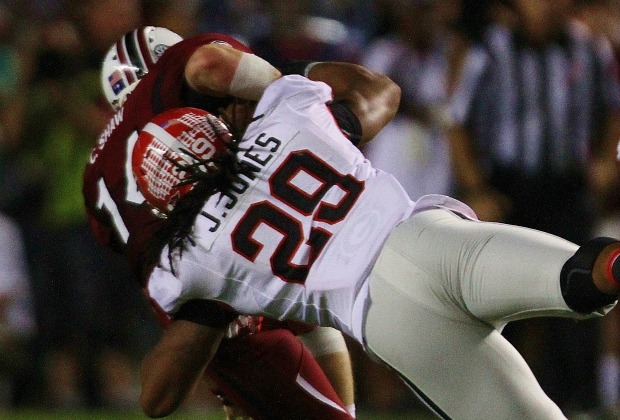 Rob Saye
Coming off their bye week, the No. 13 Georgia Bulldogs have their sights on the Kentucky Wildcats. The two teams will face off in Lexington at 7:08 pm Saturday night on FSN.
Kentucky currently owns a 1-6 (0-4 SEC) record and ranks near the bottom in every offensive and defensive statistic the conference keeps track of. After miscommunications on defense and missed blocking assignments plagued the team against South Carolina, a weaker Kentucky team is a welcomed sight for the Bulldogs.
Georgia head coach Mark Richt and selected players met with the media Tuesday afternoon to discuss these points as well as others regarding this week's matchup.
Mark Richt
On recent offensive and defensive miscommunications
"I know we've given up some big plays off not communicating well in the back and making mistakes and being over-aggressive on play-action fakes. I don't think there's been a ton of missed assignments offensively, but when you do have negative yardage plays, a lot of times it is a guy turning someone free rather than getting whipped. But I don't want to talk about South Carolina anymore. They beat us soundly and congratulations to them, but we've moved forward. Every game you'll have miscommunications, and we're not going to sit here and make excuses other than that we didn't do a good job and we have to get better."
On first half letdowns this season
"I think everyone will have things you didn't prepare for and things that catch you off guard. Sometimes you just get overaggressive when it comes to wanting to stop the run and be physical. All that's good, but you have a certain area of responsibility that you have to take care of."
On lessons learned by the offensive line against South Carolina
"Anytime you play a game and you don't have the success that you hope for, especially when we were rolling right along with running the ball and protecting well enough to put some good numbers up offensively, it's disappointing. Then they (the offensive line) ran into a greater challenge and didn't have as much success, so they had to look in the mirror, and they realize they still have a ways to go and need to get better. After a rough day, most guys want to come back and prove that they're better than what they showed in the last one."
On sympathizing with Kentucky's injuries and struggles
"Well people have asked me those types of questions before, and especially last season when we go 0-2, so I think somebody addressed that question in regard to me and how we're doing at Georgia. My answer was that I don't expect anybody to feel sorry for me. I expect everybody to hook it up and play the very best that they can play. I expect everybody to watch film and get the best plan possible and try to exploit whatever can then be exploited and play 60 minutes as hard and as fast as you can play against anybody you play. So I'm sure that's how all of the coaches feel in the league."
On Jarvis Jones' availability for this weekend
"We'll see. We're not counting him out yet. He had been running on a treadmill underwater and did extremely well. We figured when we put him on land, he'd hit the ground running literally, but he wasn't ready to practice. If he's healthy enough to play, we want him to play. There's no thought of holding him out this game so that he's 100 percent next game. I don't know if anybody's 100 percent this time of the year when you're six games in. Just about everybody has something bothering them, but if he gets the okay to go, he'll play this weekend."