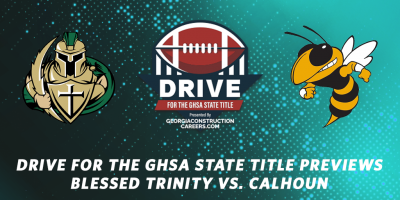 The sixth televised game featured in the 'Drive for the GHSA State Title' series is a blockbuster matchup between Class 5A No. 7 Calhoun (5-1) at Class 5A No. 9 Blessed Trinity (4-2) that will be broadcasted on PeachtreeTV/CBS46 at 8 p.m. Friday.
The teams have met twice before, and Blessed Trinity controls the series 2-0 after a 12-7 victory in the 2015 3A semifinals under legendary coaches Hal Lamb (Calhoun) and Tim McFarlin (BT) and a 35-21 victory last season when McFarlin was still at Blessed Trinity and Calhoun was under its new head coach, Clay Stephenson. This year, head coach Tom Hall will lead the Titans against Stephenson's Yellow Jackets in his first year at the helm.
Neither program has had a flawless season, but Calhoun is yet to lose a game to an in-state opponent this year. The Yellow Jackets have wins over Dalton (42-35), Ridgeland (56-7), Woodstock (56-16), Cedartown (31-7) and Hiram (63-17) but lost to Tennessee program McCallie 38-20 at home on August 27. McCallie is a two-time defending state champion and is currently the No. 2 ranked team in the Volunteer State.
Blessed Trinity has victories over Woodland-Stockbridge (34-6), North Carolina's Charlotte Catholic (28-10), Eagle's Landing Christian (24-21) and Woodland-Cartersville (40-3). The Titans lost to 4A No. 3 Marist (28-13) and St. Pius X (24-17).
Quarterback Christian Lewis leads the Calhoun offense and is 71-of-101 passing for 1,087 yards and 14 touchdowns. He has also rushed for four touchdowns. Trey Townshend is 8-of-13 passing for 99 yards and a touchdown. It's worth noting that Quin Smith, the Jackets' leading receiver, is 1-of-1 passing for 36 yards and a touchdown.
There are targets abound for Lewis in the receivers stall. Smith has 14 receptions for 304 yards and four touchdowns. Cole Speer has been efficient with 10 receptions for 298 yards and five touchdowns–including a 78-yard reception. Peyton Law has 11 receptions for 172 yards and three touchdowns. Dustin Kerns has eight receptions for 95 yards and a touchdown while Brendan Gray has seven receptions and one touchdown.
Back Caden Williams leads the ground attack with 48 carries for 425 yards and four touchdowns. Gage Leonard has 45 carries for 388 yards and three touchdowns. Corbin Fuller and Speer each have one rushing touchdown.
Christopher Lewis anchors the Calhoun defense with 34 solo tackles, 15 assists, five tackles for loss, one sack and one forced fumble.
Blessed Trinity quarterback JC French is 44-of-77 passing for 481 yards and four touchdowns to lead a Titans offense that averages 242 rushing to 85 passing yards per game.
On the ground, back Justice Haynes leads with 98 carries for 843 yards and nine touchdowns. Evan Dickens has 61 carries for 415 yards and five touchdowns. Tate Titshaw and French have each rushed for one touchdown.
Cole Weaver leads the Titans receivers with 12 receptions for 170 yards and two touchdowns. Dickens and Mavrick Torrico each have one touchdown reception.