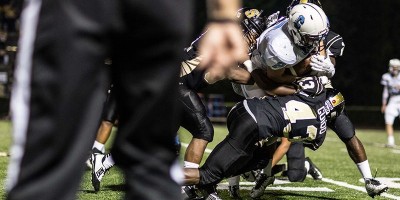 Cancellations have spiked heading into Week 11 of the Georgia High School Football season with a total of 12 games already getting called off. These cancellations occur as the SEC is also seeing massive disruptions with four of its matchups scheduled for this upcoming weekend being called off (Auburn-Mississippi State, LSU-Alabama, Arkansas-Kentucky and Georgia-Missouri).
On the high school level, Coffee called off its top 10 matchup with No. 2 Warner Robins in Class 6A. According to Georgia High School Football Daily, "If the Coffee-Warner Robins game can't be made up – and Warner Robins already has a game next week with Veterans – Warner Robins will win the Region 1-5A championship. Coffee, ranked No. 6, almost certainly would qualify for the playoffs without playing next week, which is the final week of the regular season. Coffee (7-2, 2-1) does not have another game scheduled."
Berkmar made the decision to cancel the final two weeks of its season and that means the Patriots' contest against Meadowcreek this Friday has been called off. Additionally two Fulton County games have been called off with North Springs vs. Jackson-Atlanta and Centennial vs. Creekview. In Class 4A, North Clayton vs. Mt. Zion-Jonesboro and Monroe vs. Westover have cancelled their Week 11 matchups.
In Class 3A, Stephenson County and Oconee County called off their game along with Gilmer and White County. The rest of the cancellations included Johnson-Gainesville vs. Clarke Central, Mt. Paran vs. North Cobb Christian, LaFayette vs. Rockmart and Portan vs. McIntosh County Academy.
Games canceled by COVID-19 are not considered forfeits on the official record, but regions can assess the canceling team with an unofficial loss for the purpose of determining and seeding their playoff teams. The other issue this leads to in terms of calculating official standings is some teams may end up with a 3-3 region record and another team may finish with a 2-2 region record. If these two teams never had the chance to play their region game, then it will be up to the regions to decide who gets the edge. Be sure to check back for any more developments regarding cancellations this week.