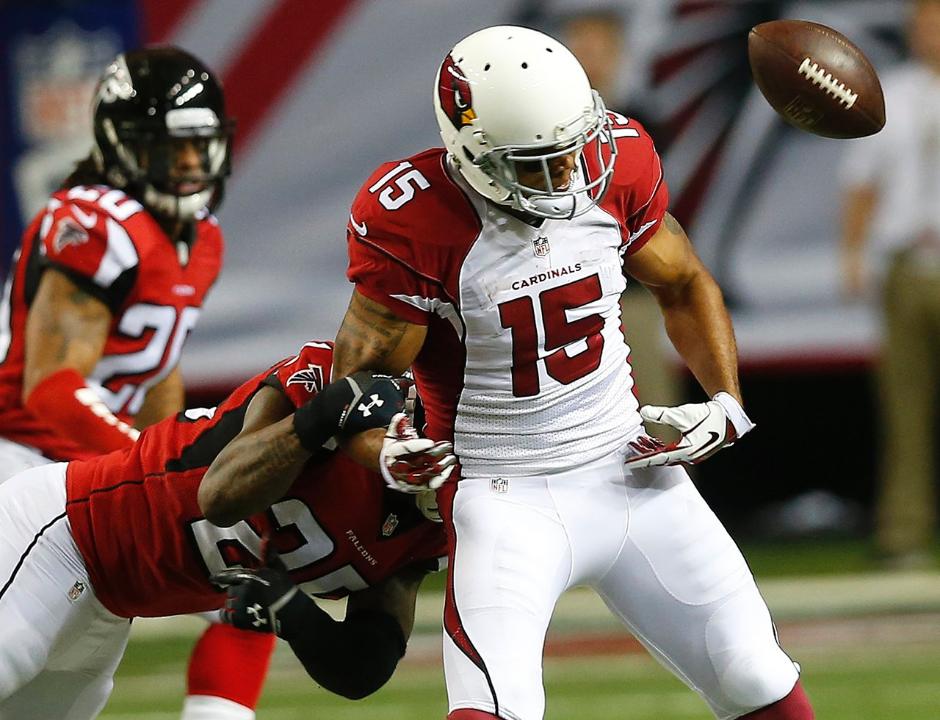 AZCardinals.com
The Arizona Cardinals had been one of the best teams in the NFL, despite their loss last week to the Seattle Seahawks. Sunday inside the Georgia Dome was no better with the Falcons having their way with the NFC West's leading team.
The Falcons offense put up 500 yards of total offense against this tough Arizona defense. Plus, they were also able to convert seven of their 16 third down's. Let's not forget that the Cardinals turned the ball over three times on two interceptions off the arm of Drew Stanton and plus a fumble forced on wide receiver Michael Floyd.
For the lack of better words, the Falcons beat the Cardinals in every way. So what did Atlanta do that Arizona wasn't able to do? According to people like their head coach Bruce Arians, it was all what the Cardinals weren't able to do.
"Normally we have come back and taken games over this year, we didn't do it today," Arians said. "Hat's off to Smitty (Mike Smith) and Matty (Matt Ryan), they played extremely well. Julio (Jones) had a big game."
Julio Jones did have a huge game, with 10 catches for 189 yards. That is a new career-high for yards in a game. This was also going up against one of the best cornerbacks in the NFL, Patrick Peterson. These two have faced each other going back to their days at LSU and Alabama. Peterson also made his comments about being the best in the league. Even after the loss, he didn't back off those comments.
"He won the matchup today," Peterson said. "Cy Young winners give up home runs. At the end of the day you have to bounce back. Like (inside linebacker Larry) Foote said here earlier, we have to face adversity. At the end of the day she's here. It's all about what type of men you have in this locker room and how you're going to bounce back from it."
The Falcons were able to run for 142 yards in their 29-18 win over the Cardinals. That was compounded by the fact that Matt Ryan was able to throw for 361 yards and two touchdowns. Former Peachtree Ridge product and LSU linebacker Kevin Minter says that Steven Jackson and company being able to run is what caused a huge issue for this defense.
"They were so good in the run and then they came at us with the play-action (pass)," Minter said. "Once they started with play action, they'd start getting us back with the run."
Falcons offensive line was also able to protect Matt Ryan pretty much the entire game. He was sacked once and hit three times. Cardinals outside linebacker Alex Okafor tipped his hat to the five offensive linemen up front.
"They did a good job," Okafor said. "They're good players and they did a good job. We were working up front and we had a couple opportunities, got a couple hits. It's funny, sacks are funny and hits are funny. Sometimes you got there and sometimes you don't. We didn't get there enough today."
This is the second straight loss for the Cardinals and probably the most impressive win for the Falcons all season.