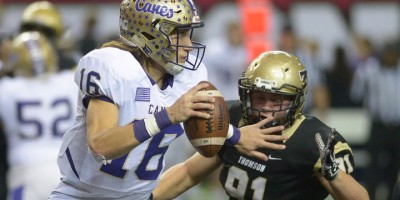 By Seth Ellerbee
The fourth edition of the Metro PCS Corky Kell 7-ON-7 Tournament will begin this Friday at 9:30 a.m. at three locations in the City of Roswell.
Games will be played at Roswell High School, Blessed Trinity (practice and stadium fields) and the Roswell Area Parks Football Complex.
This event is touted as one of the best 7-ON-7 tournaments in the Southeast, featuring 30 of the best teams in the state and countless future Division-1 and professional athletes, including Cartersville's Trevor Lawrence, a Clemson commit and top-rated quarterback in the nation.
"I have been told by several ACC and SEC schools that this is the number one 7-ON-7 (Tournament) in the Southeast," explained Corky Kell co-creator and organizer Dave Hunter. "It is all because of the teams that are competing and the quality of the teams competing. The quality of this tournament is outstanding."
In 2014, Archer won the inaugural tournament over McEachern, 28-19, but for the past two years, the crown has gone to powerhouse Colquitt County.
Rush Propst's Packers, led by quarterback Chase Parrish, squeaked past Peachtree Ridge, 23-22, in 2015 after both teams reached the finals unbeaten in seven games. Last year, everyone was treated to an anticipated championship game between Colquitt and Houston County. The Packers held off Jake Fromm's passing attack and took the crown, 20-15. Colquitt, who will play on Field #1 at Roswell Area Parks on Friday, will be sure to draw on their well of experience entering the tournament.
"I am very appreciative that they allow me us to come compete," said Propst, who has won two state championships as the head coach in Colquitt. "I am also very appreciative that they have done a good job to get this tournament going like it is. We are just  fortunate enough to win in these last two years and I don't know why."
In 7-ON-7 football, you never know what could happen or who might win. From upsets to blow-outs, anything is possible and said a laughing Propst, "Last year, if I had been a betting man, I would have said we were one-and-done. But we just kept playing really well and beat some dang-good football teams with good quarterbacks."
For more information visit the link below.
http://www.corkykell.com/2017-7-7-tournament/