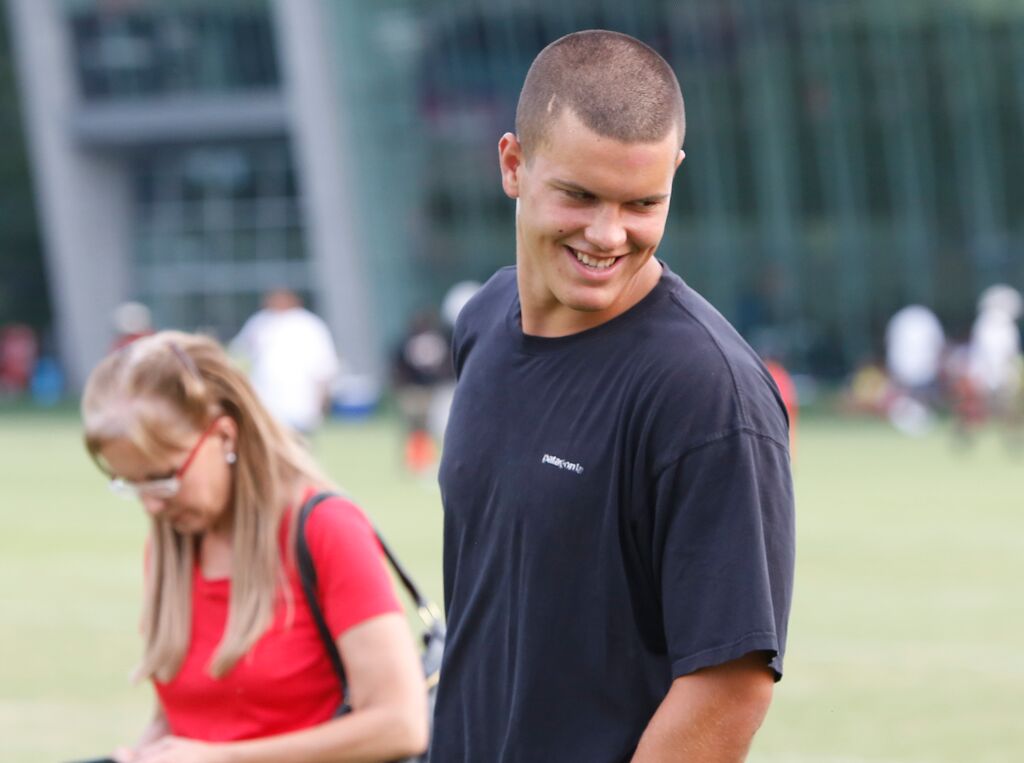 Joshua Jones/ AJC
ATLANTA, Ga.- – Rabun County wide receiver Charlie Woerner is widely considered to be one of the best recruits in the state for the year 2016. The 6-5, 230 pound pass catcher still has a season to play on the high school level, but Bulldogs fans are already looking forward to players like him hitting campus for next season.
Earlier this afternoon, I had a chance to catch up with Charlie at the Corky Kell Classic luncheon held in Cobb County. Woerner was part of the 'AJC Super-11' introduced to those in attendance.
Q: These last few months been a whirlwind for you? De-commit from Florida State, attend 'Dawg Night' and then commit to UGA?
A: It has. Once the first thing happened, it went pretty quick.
Q: Defensive Coordinator Jeremy Pruitt and Tight Ends coach John Lilly were your primary recruiters. What was it about them that made you feel like Georgia is the right place?
A: I just enjoyed talking to them. They explained everything about Georgia that I wanted to know and it just made me feel more comfortable with UGA.
Q: Pretty good relationship with WR Coach/Recruiting Coordinator Bryan McClendon as well?
A: I talk to him a lot. He's a real good guy and I enjoy talking to him.
Q: How much conversation have you had with Jacob Eason?
A: I talked to him at 'Dawg Night' a little bit. That's about the only time I've talked to him.
Q: Excited to play alongside a guy like that?
A: Yes sir.
Q: Some people have you listed as a tight end and others as a receiver. Do you feel like a guy that could do both?
A: Well I don't know, I've never played tight end before because our offense doesn't use a tight end really. But, I guess I could play both. I'm not sure. I play receiver, but nowadays tight end is a lot like receiver. So, who knows?
Q: That's a young group at WR right now for UGA. They're also going to lose Malcolm Mitchell and Justin Scott-Wesley. Excite you a little more that you could have the chance to play early?
A: I guess I'm lucky enough to play at Georgia or be looked at by them. I'd be even more fortunate if I was able to start my freshman year. Not that many kids do. I'm just excited to get down there, start practicing and working out with the guys.
Q: Pretty neat going there with the family ties as well? (His uncle Scott was a safety for the 1980 National Title team).
A: Everyone always talks about my uncle Scott and his championship winning team. But, I've never really thought of it as like that. I guess you can say I have family ties to it. But, we never really act like it.
Q: Between now and February… What's your biggest focus?
A: Taking our team as far as we can, if we play to the best of our ability.
—
If you want to follow Charlie on social media, you're out of luck. He was asked by the AJC's Michael Carvell during a quick on-stage interview why he is not on social media. His answer? "It's a waste of time."