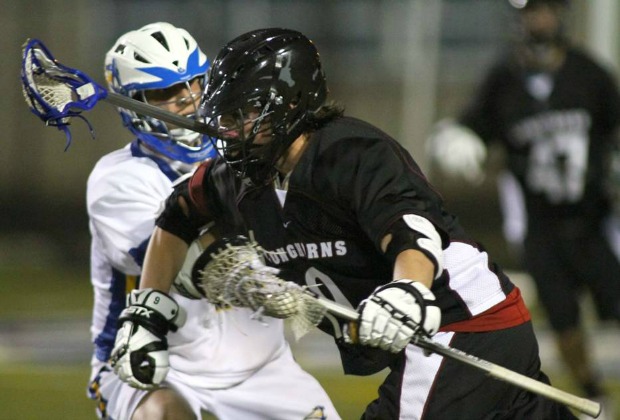 Photo by Rich Wehman
The Centennial boys took a 9-4 lead into halftime on Wednesday but saw Lassiter tie it up at 9-9 with 2:30 remaining before netting the game winner. Centennial (11-3) is ranked No. 5 in Class AAAAAA visits No. 3 ranked Lambert on Saturday. …Hillgrove and Northview were the only two undefeated boys teams in the state heading into Wednesday, but Harrison changed with a 14-4 win over the Hawks. Harrison led 9-0 at the half before coasting after the intermission.
Thursday will feature some huge matchups leading into a busy weekend slate. Class A-AAAAA showcases Fellowship Christian at No. 9 Cambridge and No. 1 Northview at No. 4 GAC. In Class AAAAAA, 11-1 Grayson will be tested with a visit to No. 8 Peachtree Ridge on Thursday and No. 3 Lambert visits No. 10 John's Creek. The most significant cross-classification matchup is Lovett at Milton. Lovett flexed its muscles last week against a Class AAAAAA opponent with a lopsided 8-2 win over Lassiter. Milton is currently the No. 1 team in Class AAAAAA.
The girls game to watch is No. 1 Kell at No. 2 Westminster Thursday night. Kell suffered its first loss last week to Class AAAAAA No. 2 Lassiter 13-6, but followed it up with a solid 15-13 win over No. 7 Blessed Trinity on Monday. Westminster is 11-0 in its in-state games this season and can take over the top spot in Class A-AAAAA with the win. Saturday features a great Class AAAAAA matchup with No. 4 Mill Creek at No. 5 Chattahoochee. Mill Creek has outscored its last four opponents 70-11 since its 11-10 loss to undefeated Hutchison (Tenn.) on March 22. Chattahoochee holds a perfect 9-0 record against in-state opponents this season and scored consecutive one-goal wins over No. 6 Centennial (17-16) and North Gwinnett (10-9) before its 18-8 win over South Forsyth on Monday.

Loading ...