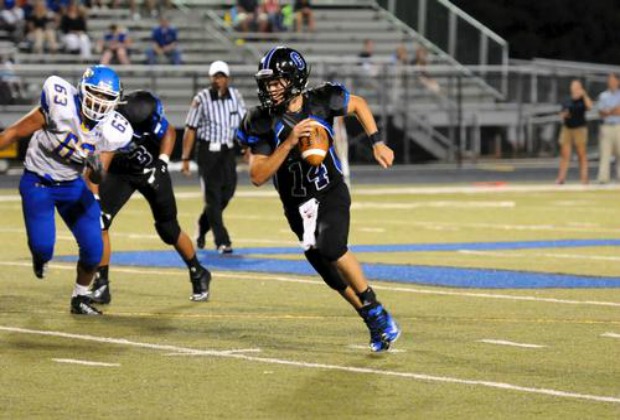 Elisa Herring
The Centennial Knights return to the Fortress for just their second home game of the season seeking their first win. Centennial last suited up at home back on Sept. 7 in a loss to Etowah before hitting the road to face Milton, Johns Creek and West Forsyth. The Knights will welcome in Lambert as the 2012 Homecoming opponent on Oct. 12, an opponent that is not a typical homecoming foe. Lambert has jumped out to a 5-0 start after dispatching Etowah, Roswell, Northview, South Forsyth and North Forsyth.
Sid Maxwell's team is anchored by son Brock Maxwell, the team's quarterback. Maxwell rushed for a pair of scores in the 21-7 win over North Forsyth and he has seven rushing scores and two passing touchdowns on the season. Daniel Myers is also a strong and capable runner coming out of the backfield. Myers put up nearly 150 yards and two scores in the win against Northview. Jake Vazquez is another weapon in the running attack.
Should the game come down to a kick, Maxwell can turn to either his son or Ryan Karjala, who helped Lambert to a 19-17 win over Roswell with a late 35-yard field goal.
NEW-LOOK KNIGHTS
Jeff Carlberg switched up the offensive attack when he came to Centennial during the offseason. Senior Chase Rosenberg took over at quarterback as the offense moved to a spread attack. Rosenberg went off against Johns Creek, putting up 409 all-purpose yards with 347 passing yards and three scores. Rosenberg has found reliable targets in Christian Robinson and Matthew Harries. Robinson hauled in a long scoring reception against West Forsyth and two others against Johns Creek. Harries snagged five passes for 121 yards against Johns Creek. The offensive line is anchored by Vincent Calhoun and Alexander Yankey.
Carlberg's forte is defense and his unit is led by co-captain Ryan Bennett at linebacker with Andrew and Alex Estes up front alongside Caleb Howard. Nick Barton is a capable defensive back.
QUARTERBACK SHOWDOWN
Both quarterbacks will play at the next level as Rosenberg has gone on several visits to Ivy League schools and has been invited to visit Vanderbilt. Meanwhile, Maxwell will play baseball at South Carolina, though the football team could try to impress him much the way Steve Spurrier snagged Bruce Ellington from the basketball team.