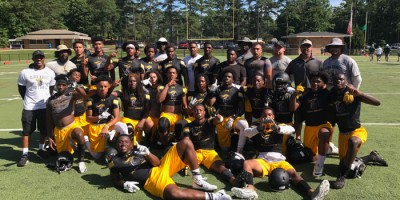 Central Gwinnett defeated Archer 32-8 in the championship round of the Corky Kell 7-on-7 tournament to take the 30-team tournament title.
"Someone has to win this, why not us," said Central Gwinnett head coach Todd Wofford following the victory.
The Black Knights entered the tournament as the No. 8 seed after pool play and a semifinal victory over North Gwinnett ignited the team to a dominant finals performance. Quarterback Jarren Williams opened up a 19-2 lead with three touchdown passes to senior receiver Khmari Thomson. By the time Central Gwinnett allowed Archer to reach the endzone, the score was already 26-2 after Williams hit Kameron King for his fourth touchdown pass of the game.
Archer cut the lead to 26-8 with 3:30 left, but Williams iced the game with another touchdown toss to King with just a minute left that made it 32-8.