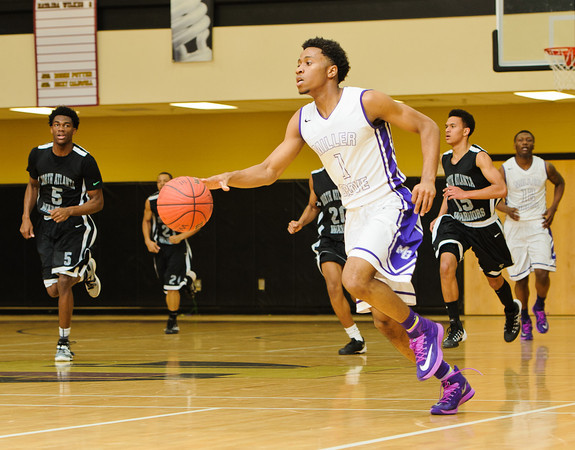 Photo by Ty Freeman
WARNER ROBINS
28-2, REGION 2
If there has been a team with any kind of a home-court edge in the final four, it is Warner Robins. The Demons played in front of a partisan crowd in a 45-43 win over Stephenson in the semifinals in Fort Valley and will again be supported by much of middle Georgia in their finals outing against Miller Grove. The home crowd no doubt played a big role in Warner Robins' narrow win over its DeKalb County foes. The Demons used a late rally to catch Stephenson after the Jags had taken a six-point edge.
Warner Robins came all the way back to take a one-point lead with 2:33 left. Nathan Curtis eventually gave Warner Robins a three-point lead with seconds left and the Demons survived a last-ditch effort by Stephenson that nearly tied the game. Coach Jamaal Garman's team cruised into the semifinals with a 69-48 shellacking of Bainbridge in the Demons' home gym. Warner Robins wasted little time in that one, taking a 23-11 lead at the end of the first period.
Junior forward Nathan Curtis led Warner Robins with 21 points and fellow junior Stephon Raybon added 12. The Demons have not lost since a 59-48 defeat by arch-rival Northside on Dec. 23 and have held all of their playoff opponents to less than 50 points. Warner Robins gave up 52 points or more in a 10-game stretch leading up to the state playoffs. In the playoffs, however, the Demons' defense has been stingy. This is just the second state finals appearance for Warner Robins and a win would earn the school its first-ever boys basketball state championship. The semifinals appearance was the first not only for Warner Robins, but for all of Bibb County since 2000.
MILLER GROVE
27-5, REGION 5
The Wolverines are back. Coach Sharman White's team has won five straight championships and six straight final fours. Four of the championships came in Class AAAA with the fifth coming in 2012. Miller Grove has a strong argument to being the state's top boys program in the state. While Miller Grove teams of the recent past relied on strong presences down low like UCLA's Tony Park- er and Georgia's Donte Williams, this year's edition features strong backcourt play.
Guards Keith Pinckney and Alterique Gilbert lead the way for a talented bunch of Wolverines. Just a sophomore, Gilbert leads the team in scoring, averaging 17.8 points per game. He also leads the team in assists with 5.6 and in steals with a whopping 4.2. Gilbert stands 5-foot-11 and scored 36 points in the quarterfinal win over DeKalb County- rival Tucker. Pinckney, a 6-foot-2 senior who is committed to Tulane, scores 17.6 points per game and averages 4.2 assists and 2.3 steals. James Walker is the team's lynchpin down low. The 6-foot-5 senior was fourth in DeKalb County with 9.1 rebounds per game this year. Walker averages 10.3 points per game.
Omar Venable, a 6-foot-8 senior center, and sophomore forward Raylon Richardson form a tough defensive presence down low, averaging 2.2 and 2.1 blocks per game, respectively. Miller Grove's last loss came on Jan. 20 to Roselle (N.J.) at the Flying to the Hoop Tourney. The Wolverines' last loss to a Georgia team came on Dec. 31 to Norcross. Prior to that, the Wolverines lost back-to-back games to Columbia on Dec. 20 and Bullis (Md.) on Dec. 26. Their only other loss came to Class AAAAAA- finalist Wheeler on Dec. 7. White started the program and has been the Wolverines' coach now for nine seasons. He carries an impressive 234-47 record at Miller Grove.