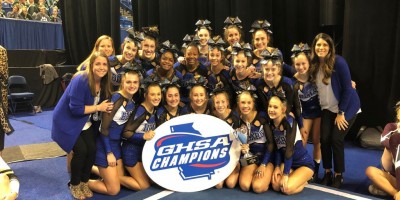 The GHSA Cheerleading State Championships completed competition on Saturday with the Classes AA, AAA and AAAA doing business in the morning and Classes AAAAA, AAAAAA and AAAAAAA finishing up the season in the afternoon.
In the state's highest classification, Lambert defended its 2018 title and captured its sixth cheerleading championship with a 107-point effort to edge out South Forsyth's 105.5-point performance. North Forsyth (104), Archer (100), Woodstock (97) and East Coweta (97) finished in that order. In Class AAAAAA, Creekview scored 95.5 points to win its first-ever title and end Northgate's streak of four-straight championships. Cambridge (95), Lakeside-Evans (93.5) finished behind Creekview and three teams – Alexander, Harrison and Northgate – each had 92.5 points. McIntosh won its fifth title with a 106-point effort at Class AAAAA, edging Carrollton for the crown, who also finished with 106 points but lost on a GHSA tiebreaker. Ola (102.5), South Effingham (101.5), Woodland-Cartersville (94.5) and Loganville (940 were the top-finishers.
In the morning session, Denmark won its first state championship in Class AAAA with a 92-point effort ahead of Cartersville (87), Cedartown (84), Mary Persons (81) and West Laurens (79). Pierce County captured the AAA title for the fifth-straight season and seventh overall with a 97.5-point performance. Jefferson came in second with 91 points ahead of Dawson County (90.5), East Jackson (88.5) and Ringgold (82). In Class AA, Vidalia won its third title with an 89.5-point effort which narrowly edged out Armuchee (89), Bleckley County (88.5), Model (84) and Pepperell (79.5).
On Friday, Mount Paran won its eighth-consecutive A-Private state championship with a score of 101.5 ahead of Brookstone (79), Hebron Christian (71), Savannah Christian (70) and Calvary Day (65). Gordon Lee defended its Class A-Public title for the fourth season with a 99-point effort. The Generals scored 99 points and finished ahead of Commerce (87), Lake Oconee Academy (77.5), Irwin County (60.6) and Bowdon (58.5). Mill Creek scored 105 points to defend its 2018 title in the co-ed competition ahead of Peachtree Ridge (100.5), North Gwinnett (99.5), Milton (97), Chapel Hill (97) and Forsyth Central (94).
Class AAAAAAA
1. Lambert
2. South Forsyth
3. North Forsyth
4. Archer
5. Woodstock
Class AAAAAA
1. Creekview
2. Cambridge
3. Lakeside-Evans
4. Alexander
5. Harrison
Class AAAAA
1. McIntosh
2. Carrollton
3. Ola
4. South Effingham
5. Woodland-Cartersville
Class AAAA
1. Denmark
2. Cartersville
3. Cedartown
4. Mary Persons
5. West Laurens
Class AAA
1. Pierce County
2. Jefferson
3. Dawson County
4. East Jackson
5. Ringgold
Class AA
1. Vidalia
2. Armuchee
3. Bleckley County
4. Model
5. Pepperell
Class A-Private
1. Mount Paran Christian
2. Brookstone
3. Hebron Christian
4. Savannah Christian
5. Calvary Day
Class A-Public
1. Gordon Lee
2. Commerce
3. Lake Oconee Academy
4. Irwin County
5. Bowdon
Co-ed
1. Mill Creek
2. Peachtree Ridge
3. North Gwinnett
4. Milton
5. Chapel Hill