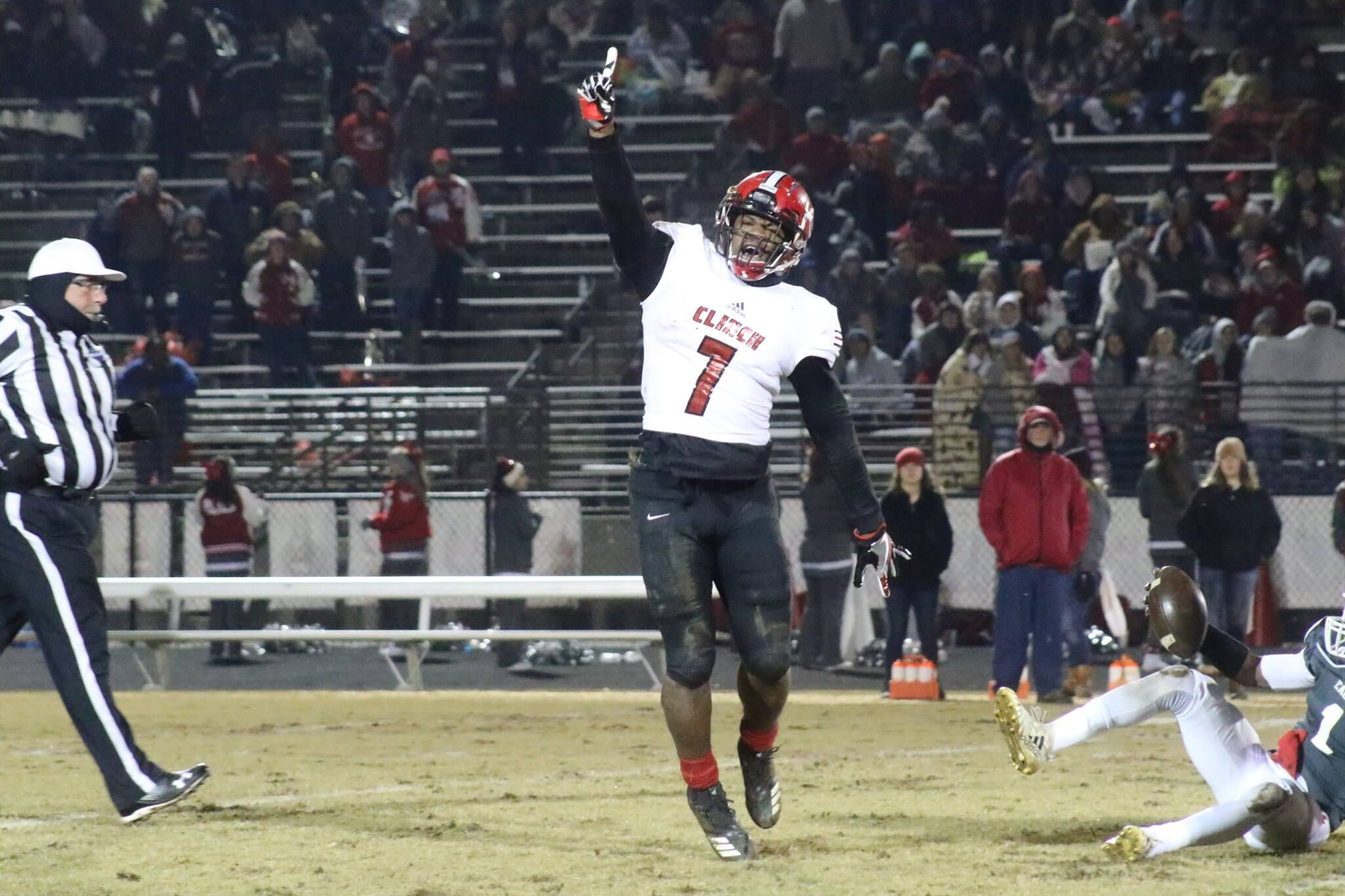 Clinch County captured its eighth state championship and successfully defended its 2017 title behind a three-touchdown performance from quarterback Tyler Morehead. Clinch County continued the trend of losing to Irwin County in the regular season before rebounding to win the state championship rematch for the third time in its past four seasons.
"Same situation, same scenario," said Clinch head coach Jim Dickerson. "We are glad that the football gods are smiling on us with playing the same team twice. We have had to overcome so much and the team has been resilient all year long."
Irwin County started the scoring on a 58-yard touchdown pass from Zach Smith to Jamorri Colson with 6:13 left in the first quarter. Clinch answered with a 30-yard Zack Robbins field goal and 48-yard touchdown run by Morehead in the second quarter to claim a 10-7 lead at the half.
Irwin County regained the lead on a 10-yard run by Jamal Paulk, but its missed extra-point kept the game within a field goal (13-10) heading into the fourth. Robbins pulled Clinch County even with a 40-yard line-drive field goal early in the fourth quarter, before Clinch County's special teams came up with a crucial turnover, which allowed Jeremiah Johnson, a 6-foot-7, 215-pound stud receiver, to take over.
"We were coming off the ball hard and doing everything the right way," said receiver Jeremiah Johnson of the sequence that put Clinch in control of the game. "It was a big play at the moment."
On the kickoff following Robbin's field goal, the Irwin County return unit got caught napping, which allowed Morehead to recover the ball unintended onside kick. Johnson ran a fade route on the ensuing play to the right side of the end zone and used the natural mismatch of his massive frame to easily snag the reception above the outstretched arms of the Irwin County defender. Six minutes later, Johnson made his presence known again, this time on a 59-yard touchdown pass from Morehead that pushed the lead to 27-13.
"We just came in with a big head," Johnson said of Clinch's regular-season loss to Irwin County. "At the end of the day, we know we can beat them when we want to. We didn't have a big head today."
Irwin County answered with a 15-yard touchdown pass from Zach Smith to Javon Stanley that pulled the game within a touchdown, 27-20, but the onside kick was successfully recovered by Clinch County.
Morehead finish an efficient 4-of-6 passing for 121 yards and two touchdowns. He also led Clinch County with his 68 rushing yards and 48-yard rushing score. Johnson caught three passes for 112 yards and two touchdowns. Trezman Marshall made five tackles. Dillil Carter and Dantionio Robinson had 4.5 tackles.
Irwin County's Zach Smith finished 5-of-10 passing for two touchdowns and one interception. D.J. Lundy rushed for 127 yards on 15 carries. Colson has one catch for 58 yards and a touchdown. Stanley caught two passes for 23-yards and a touchdown.