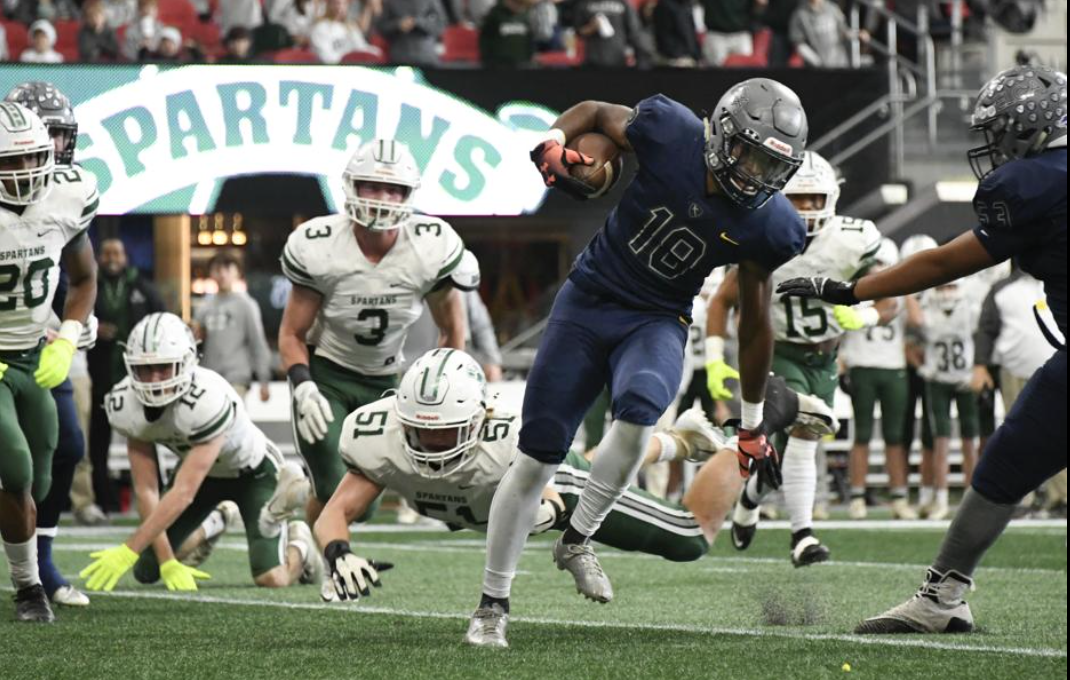 Eagle's Landing Christian overcame its slow start with a dominant second half effort to run away with its fourth-consecutive state title.
"It feels just so good today," said ELCA coach Jonathan Gess. "[We were] down 10-0 at halftime and for the team to come out in the second half and do what they did, this was just really special."
By halftime, Athens Academy had constructed a 10-0 lead on the back of a 40-yard field goal by James Williams with 8:29 left in the first quarter. Four minutes later, Len Whitehead broke a 54-yard run to push the lead.
"It feels good to get the win," said ELCA's Justin Menard, who had two touchdown receptions in the game. "It's just the work ethic that we put in over the summer that allowed this. This year, us losing to Pace Academy was humbling, and we just grinded harder to try to win another championship."
ELCA responded by outscoring Athens Academy 44-7 in the second half to put the game away. The comeback was sparked by Menard's 12-yard touchdown pass from Brayden Rush. Rush then connected with Justin Robinson minutes later on a 14-yard pass to push the lead to 13-10. Rush's 50-yard pass to Menard extended the lead just before Athens Academy pulled back to within 3 points on a 7-yard run by Len Whitehead with 57 seconds left in the third quarter.
From that point on, it was ELCA's ballgame. The Chargers expanded the cushion in typical ELCA fashion with two touchdown runs by Keaton Mitchell (58 and 24-yards), a 35-yard run by Josh Rogers and a 25-yard field goal by Austin Reed.
Mitchell finished the game rushing for 175 yards and two touchdowns on 17 carries. Rogers rushed for 77 yards and a touchdown on seven carries. Rush was 11 of 22 passing for 212 yards and three touchdowns. Menard caught three passes for 72 yards and two touchdowns. Kobi Mitchell made 7.5 tackles, Jelan Pearson made seven tackles.
Athens Academy's Whitehead finished with 107 yards and two touchdowns on 13 carries. Palmer Bush was 12 of 23 passing for 88 yards.