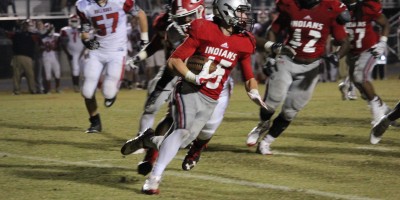 Photo courtesy of Sandy McClurd
After back-to-back losses to Irwin County in the 2014 and 2015 seasons, Clinch County got an opportunity to best the Indians in the '05 championship game. Sophomore Charles McClelland, now a senior star for Clinch County, helped secure the 24-7 victory, rushing for 183 yards and a touchdown to bring home the school's sixth title. Irwin County has advanced to the finals three times in the past four years but hasn't won a title since 1975. With both teams going head-to-head frequently, this rematch of the 2015 state championship game should be a thrilling contest between two teams with history. Irwin is 21-20-1 all-time against Clinch since the teams first met in 1952 and is 9-5 in the series since 1998, after a decade and a half of dominance by Clinch from 1993-98.
Clinch County (11-2)
Clinch County is no stranger to playing for state titles. In 2015, the Panthers suffered only one loss, to their 2017 championship opponent Irwin County. The teams met again in the 2015 state title game, and Clinch walked away victorious after a 24-7 win. Last year, Clinch County's only regular-season loss was a 35-21 defeat to Brooks County; the Panthers entered the playoffs as the No. 2 state seed in Class A-Private and advanced to the semifinals before losing 24-8 to McIntosh County Academy. This season, however, the Panthers find themselves in the championship game after defeating No. 21 Dooly County, No. 4 Mitchell County and No. 8 Mount Zion-Carroll. In the semifinal game, Clinch beat Mt. Zion thanks to a blocked field-goal attempt in the final minute. Trezmen Marshall, a 4-star recruit, stars on both sides of the ball. Head coach Jim Dickerson has racked up 138 wins along with three state titles during his 13 seasons at Clinch County.
Irwin County (12-1)
Since taking over as head coach in 2014, Buddy Nobles has led Irwin County to one quarterfinals appearance along with three trips to the championship game. In 2014, after losing only one game during the regular season, the Indians, the No. 2 seed in the state, were defeated by fourth-seeded Hawkinsville 15-6 in the state title game. The Indians lost to Clinch County in the 2015 title game, and the 2016 season was the first in three years in which the team didn't advance past the quarterfinals. But the Indians have lost only once this season, to Class AA Fitzgerald. D.J. Lundy, who rushed for the game-winning touchdown in the fourth quarter of the semifinals game against Emanuel County Institute, carried the ball 24 times for 127 last weekend. Quarterback Will Stephens was 10-of-11 passing for 208 yards and three touchdowns, two to Jamorri Colson and one to Hunter Spires, to help Irwin overcome a 22-8 deficit in the second quarter.