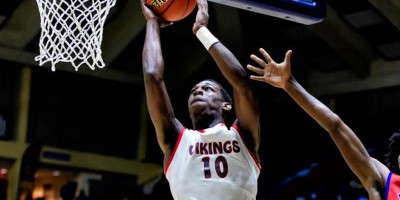 Valdosta State – The No. 1 ranked Treutlen boys are heading back to the Class A-Public state championship for the second consecutive season after toppling No. 4 Terrell County 68-63. The Vikings jumped out to a 40-30 halftime lead and held a 61-55 lead with 3:06 left to play before celebrating the win. With the victory, Treutlen improves to a perfect 30-0 and is back in the finals after last year's 67-65 heartbreaking loss to Calhoun County.
Class A-Public Results from Valdosta State
Girls
Central-Talbotton 63, Calhoun County 44
No. 1 seed Central-Talbotton led 33-32 with 4:50 left in the third quarter before sparking a game-changing 11-4 run that put the Hawks up 44-37. The Hawks closed out the victory to extend their winning streak to 20 games and improved to 28-1 overall. Central-Talbotton is set to make its first state championship appearance since 1986 when the program captured its third-straight state title.
Wheeler County 81, Turner County 66
No. 3 seed Wheeler County took a commanding 23-9 lead over No. 10 seed Turner County after the first quarter. The game marked a rematch of the 2016 semifinals when eventual state champion Turner County defeated Wheeler County 57-44. Turner County trailed 40-22 at the half before a 26-14 edge in the third quarter brought them within six points (54-48) heading into the final frame. Wheeler County responded with a 27-18 edge in the fourth quarter to run away with the 15-point victory and advance to the state championship for the first time in program history.
Boys
Hancock Central 68, Wilcox County 53
Hancock Central exploded to a 52-29 halftime lead over Wilcox County and closed out a dominant 24-point victory by preserving the lead in the second half. This win followed the Bulldogs' 68-53 victory over the defending state champion Calhoun County Cougars in the quarterfinals.
Class AAAA Results from Fort Valley
Woodward Academy will play Cross Creek for a shot at a state championship in Macon next week after the War Eagles defeated Denmark in the second game of the evening and Cross Creek beat St. Pius X. For the girls, Troup will play Americus-Sumter in the AAAA girls championship game after the Tigers moved past the defending champions from Carver-Columbus and Americus-Sumter defeated Luella at Fort Valley State University on Friday.
Boys – Woodward 64, Denmark 43 
Jacorrei Turner's dunk with 1:20 left in the game put Woodward ahead 58-41 and unleashed a streak of high-flying routines that kept the War Eagles in control of its 64-43 victory against Denmark in a Class AAAA semifinal matchup at Fort Valley State.
The final flurry of dunks became an exclamation point as Woodward punched its ticket to the state championship game after losing to Carver-Columbus one year ago in the same gym, in the same semifinal situation.
"We had a little bit of fun in the final few minutes," Turner said. "We had a couple of dunks, and it was just emotion coming out. We put pressure on them, and they couldn't handle it. We got out on the breaks and got a few dunks. Denmark really pushed on offense, and they move the ball very well."
Woodward's 7-foot center Walker Kessler, a five-star recruit who signed with North Carolina, also got above the rim in the final minutes of the game, although he barely had to jump.
"Denmark is an extremely talented team," Kessler said. "Both teams played hard, and we just kind of pushed through. We just pushed the ball in the final few minutes. There were some emotions coming out in the form of dunks. It might have even been a bit disrespectful, but there were just emotions coming out. All the best to Denmark. They are a great team and they played us hard today. I feel we are one of the best teams in the state, and if we stay true to ourselves, no one will stop us here or next week in Macon."
Woodward led 10-8 after the first quarter, but Denmark responded with a run to take a 25-23 lead at halftime. Woodward coach Anthony Thomas used the time to motivate his team with a short, simple talk.
"I asked them if they wanted to go home," Thomas said. "We talked about last year's loss over the course of the year, and they said they wanted to get back to the semifinals. We still have more work to do. We talked about last year in the pre-game, and I asked, 'What are you going to do about it? We made some small adjustments in the half. We just weren't playing with any kind of energy. They had great offensive design, and we were not jumping at the ball and getting caught on screens."
The talk worked.
Woodward tied the game at 29 with 5:12 left in the third quarter and led 33-31 with with 3:42 left. The ensuing 20-7 third-quarter run put Woodward in control of the game. Woodward guard Emory Lanier, a 6-foot-3 senior, made one play that seemed to spark his teammates. After getting the ball at the top of the key, Lanier got by a defender, faked left and drove right through the lane and released the ball over a Denmark defender and off the glass. He was fouled on the play. The three-point play began a Woodward run that gave the War Eagles a 43-32 lead entering the fourth quarter.
Just five Woodward players scored in the game, led by Kessler's 21 points. Turner and Will Richard each scored 12 points. Lanier scored nine points, and Michael Whitmore scored eight. Denmark was led by junior guard Sutton Smith and sophomore shooting guard Robert Cowherd, who each scored 11 points for the Danes.
"We knew we were going to get their A-game," Thomas said. "So we brought ours."
Cross Creek 51, St. Pius X 36
Cross Creek executed a game plan to perfection during its 51-36 victory against St. Pius X in the Class AAAA semifinals at Fort Valley State. The idea, laid out by coach Lawrence Kelly, was for the Razorbacks was to limit the effectiveness of Pius guard Brookes Kahlert.
Solid execution of the plan helped Cross Creek, an Augusta program that never had advanced this deep into the tournament, hold St. Pius to just 10 points with six minutes left in the third quarter. The smothering defensive effort kept the Golden Lions at bay through the final minutes of play.
"We have never been there before, and we are trying to make history for the school," said Cross Creek guard Kobe Stewart. "We just kept to coach's game plan. We followed his game plan to keep (Kahlert) out of the game. He runs the team and is just a great floor general. We took him out of the game, and that was it. It was over."
Cross Creek led 9-6 after the first quarter, then held the Golden Lions to four points in the second quarter. Kahlert, who finished with five points, only managed two points in the first half. The Razorbacks led 21-10 at the break.
"We know that St. Pius is a great team, and we also know that they have a great coach (Aaron Parr)," said Kelly. "For the most part, the game plan worked. Of course, we had some lapses and have to work on some things. But the game plan worked. We just tried to play great defense on them and tried to make every shot that (Kahlert) took be a tough shot. Like I said, he is a phenomenal player."
St. Pius found a little offensive rhythm in the second half, but Cross Creek, with a solid lead, essentially swapped baskets in the third quarter and fourth quarters.
Stewart finished with 20 points, 13 rebounds, four assists, two steals and a block. Corey Trotter scored 11 points with nine rebounds, two assists, two steals and four blocks. Makhi Climons scored eight points with nine rebounds and two assists. St. Pius was led by Devin Portee's 12 points.
"The biggest thing is, these guys come to work every day," Kelly said. "And the coaching staff, they come to work every day. We had a goal set for us at the beginning of June. They came; they committed, and they work hard every day. We set this thing in motion about a year ago."
And it has Cross Creek playing for a state championship.
Girls — Troup 56, Carver-Columbus 47 
Troup is one victory away from its first state basketball championship after defeating Carver-Columbus, the defending Class AAAA champions, 56-47 in the first game of semifinal play at Fort Valley State University.
Troup led 14-13 after the first quarter, but pulled away with a 17-9 run in the second quarter to lead 31-21 at halftime. The Lady Tigers extended the lead in the third quarter, then survived a late Carver run to reach the championship game.
"Anytime you see what they bring in the first half, you make adjustments in the second half," said Troup head coach Carla Thornton. "We kind of slowed them down on offense and were allowed to get some separation in the second quarter and then adjusted at half to keep control."
Carver-Columbus was playing without McDonald's All-American Olivia Cochran after she was assessed two technical fouls in Carver's 70-63 victory against Woodward Academy in the quarterfinals. The loss of its star player hurt Carver, but according to Thornton, Troup was prepared for the other players to step up.
"It's unfortunate for them," Thornton said. "But at the same time, we had to account for the other athletes they have on the court. Just like when we have people who don't play, others step up, and I knew they would step up and fill in for her role. I know they have top-tier athletes on that team, as well."
Carver outscored Troup 14-10 in the fourth quarter, but could not get close enough to seriously threaten.
"We got winded in the fourth quarter and made some mistakes. But I saw a lot of great teamwork from us tonight," Thornton said. "We played great defense and because of it, we got a lot of transition layups."
Freshman shooting forward Alexcia Murphy led Troup with 15 points, and sophomore shooting forward Aniya Palmer scored 13 points. Amber Gilbert and Jada Greene combined for 16 points. Carver's Kionna Gaines scored 14 points, and Khamaya Edmunds scored 11.
Americus-Sumter 56, Luella 51 OT
After not earning a trip to the state tournament last year, Americus-Sumter outscored Luella, a semifinalist last season, 7-2 in overtime to defeat the Lions 56-51 and advance to the state title game that will be played next week in Macon.
Americus went 5-of-8 from the free-throw line in the OT and got a field goal from Trinity Jackson to secure the victory.
After trailing Luella 11-6 after the first quarter, Americus responded with a 20-5 run in the second quarter to take a 26-16 lead at the half. Luella came back in the third quarter with a 20-10 run to tie the game at 36 entering the fourth quarter. In the fourth quarter and overtime, Americus lost, then regained control of the game.
"That's pretty much what we work on," said Americus coach Sherri Harris. "We are flipping tires; we are running stadiums; we run miles; we prepare for this. That way when the fourth quarter comes, we don't look weak. We want to come out looking strong. Like I told my bigs out there, we need every rebound."
With 41.5 seconds left in the regulation, Americus-Sumter's Goodman drove past a defender on the right side of the baseline and hit a bank shot to put the Panthers ahead 48-47. Americus forced three turnovers on inbounds plays, but managed only one free throw during the sequence to take a 49-47 lead.
With 15.9 seconds, left, Luella's Paris Miller scored on a shot off one foot at the free-throw line to tie the game and force overtime.
Reese, a senior shooting guard, scored 18 points to lead Americus. Jones, a senior point guard, scored 15 points and Goodman added 12. Brianna Pope hit both of her overtime free throws, and Goodman, Reese and De'Asia Ford each were 1-for-2. Keely Brown led Luella with 24 points, and Tajinique Williams scored 10 points.
"Like I told them, 'this is what you work for,'" Harris said. "The whole preseason was about this right here. Conditioning, the extra running that we do. All of it. If everyone else is tired in the fourth quarter, we are ready."
Class A-Private Results from Georgia College & State University CLICK HERE
Class AAAAAA Results from Buford City Arena CLICK HERE