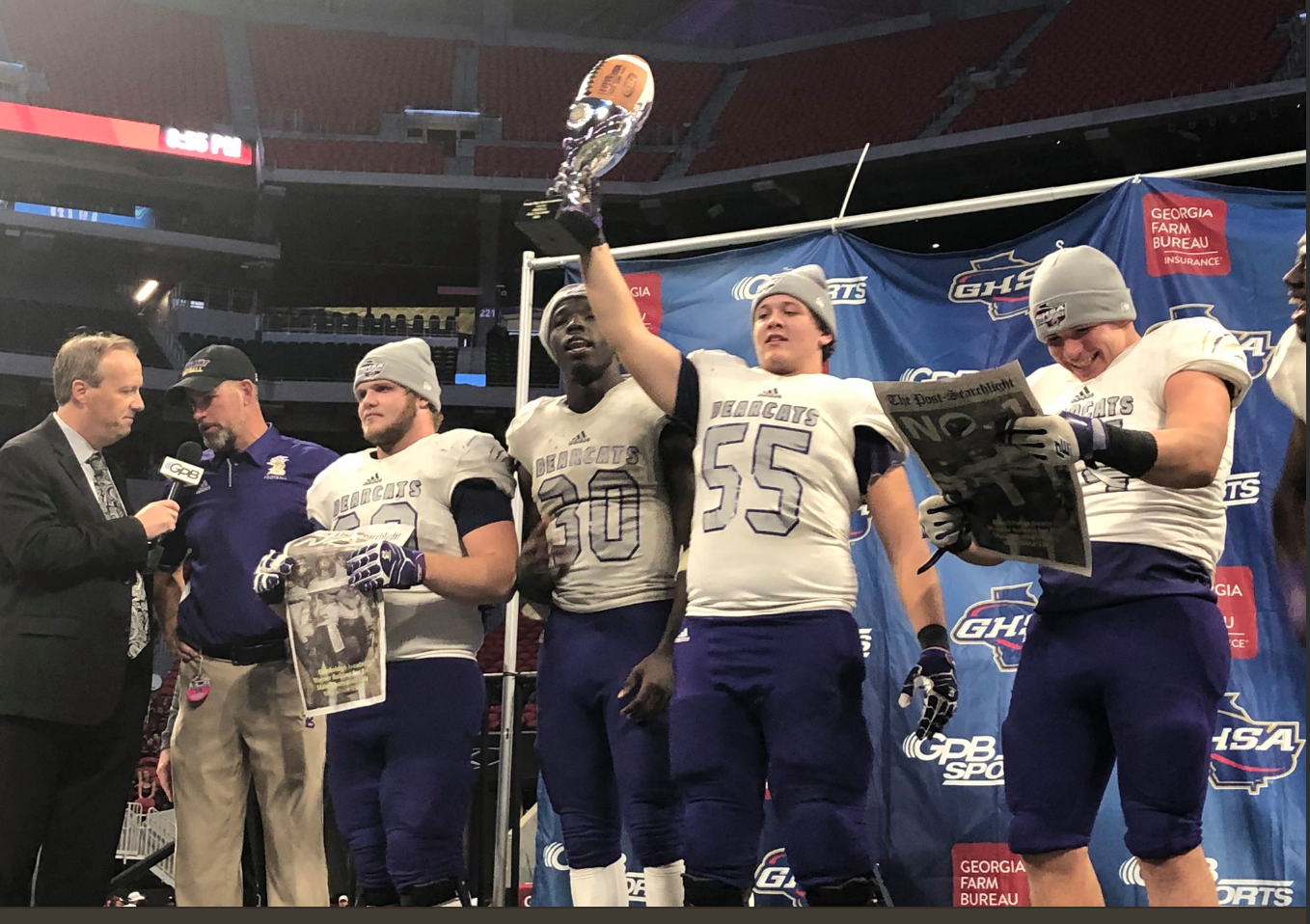 The young Bearcats avenged a 38-0 loss to Warner Robins in the regular season with a 47-41 triple overtime victory in the Class AAAAA state championship. But the high school version of the infamous 28-3 script flip in Super Bowl LI saw Bainbridge fighting off a valiant Warner Robins comeback attempt after going up 28-0 early in the game.
Bainbridge built its lead on an Anthony Brooks punt return, a Bryce Worthy 32-yard interception return, a 24-yard pass from Caleb McDowell to Aaron Spivie and a 9-yard rushing score by McDowell.
"The kids believe in our process and they work the process," said Littleton. "The process is no good without them. Without them doing it, and believing it. It hasn't even hit right now. The ups and downs of that game, I mean, we're sitting there up four touchdowns. You just know Warner Robins is going to fight back to get in the game, so we just told our kids to keep fighting, and they listened."
Unbeaten Warner Robins began its furious comeback with a 4-yard touchdown run by Jahlen Rutherford with 5:23 left in the second quarter. Bainbridge's Deyon Bouie briefly stopped the Demons rally with his 32-yard interception return that put the Bearcats up four touchdowns, but then Warner Robins reeled off 35 unanswered points and forced overtime.
"Defensively, we bailed ourselves out of situations all year long," said Littleton. "Offensively, we just make plays when we have to and if we don't make plays, the defense picks us up."
The two teams swapped field goals and defensive stops through two overtimes before Quayde Hawkin's game-winning touchdown run. A pair of Caleb Harris field goals (37-yards, 34-yards) kept Bainbridge alive. Samariy Howard's two field goals (22-yards, 20-yards) kept Warner Robins in it before another defensive stop by Bainbridge, and a third down sack by sophomore Tahari Tate set up the game-clinching the fourth down incompletion.
"It's unbelievable for the community," said Littleton, regarding Bainbridge weathering Hurricane Michael earlier this year. "The community wanted this so bad and they wanted to be here. But, once they realized they were here, they wanted to win it so bad. They just pulled together and they came together for everybody."