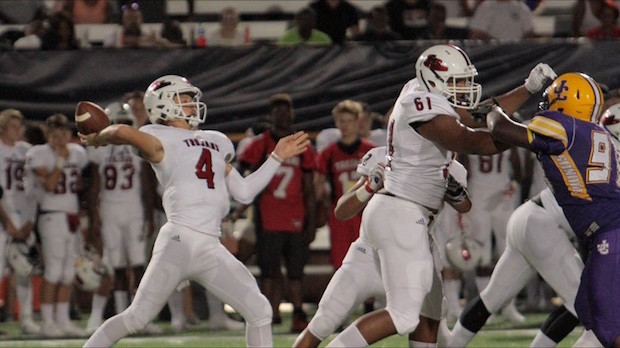 Lee County successfully defended its AAAAAA title with a stifling defensive effort that protected the two-touchdown lead gained with rushing scores by Shaun Kimbrough. The Trojans' defense was looking to make a statement, and a championship shutout echoed the unit's season-long dominance.
"We have the best defense in the state," said Lee quarterback Kyle Toole. "That was the best game I've ever seen them play. They played their butts off tonight. They have players all over the field, really. They're really sound at what they do. They never really are screwing up."
Kimbrough scored with 32 seconds left in the first quarter on a 4-yard run and at 11:55 of the fourth quarter on the 2-yard dive.
The Lee County defense allowed Northside-Warner Robins just 164 total yards in 53 plays on the evening while gaining 203 yards on 46 plays. Kimbrough finished with 56 rushing yards on 16 carries. Toole was 6 of 14 passing for 128 yards. Jammie Robinson made 5.5 tackles. Baron Hopson and Deangelo Griffin each had 5 tackles. Derrick Gorsuch made 4.5 tackles.
Northside's Jadin Daniels was 9 of 19 passing for 111 yards. Jaron McWilliams made 8 tackles for Northside. Teammates DeShaun Maine and Tubby McCall each made six tackles. Willie Northern made three tackles.