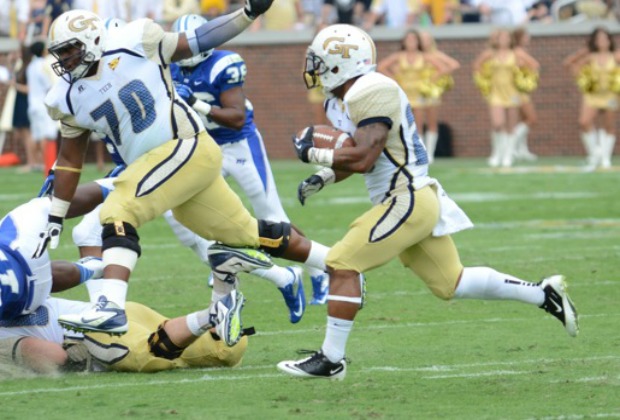 Jon Barash
Tajh Boyd passed for a career-high 397 yards and two touchdowns, both to DeAndre Hopkins, who tallied 173 receiving yards as No. 15 Clemson Tigers defeated the Georgia Tech Yellow Jackets 47-31. While the Jackets did keep the game close and held the lead multiple times throughout the game, Georgia Tech simply could not come up with timely defensive stops and avoid costly mistakes, particularly in the fourth quarter, when Clemson blew the score open.
Following a demoralizing home loss to Middle Tennessee last week, Georgia Tech had to come out Saturday with a new sense of urgency, and it appeared through three quarters that the Jackets had shown enough to potentially pull off the upset and get its season back on track.
Unfortunately that was not the case as Georgia Tech could not keep Clemson's offense off the field and it appeared that the defense had run out of gas in the final quarter. The Tigers mustered 601 yards of total offense on 93 plays as they improved to 5-1 on the season and, in the process, dropped the Jackets to their third-straight loss and also a disappointing 2-4 record.
There were some positives to pull out of the loss for the Jackets as Tevin Washington passed for 144 yards and a touchdown and continued his impressive season on the ground, rushing for 104 yards on 16 carries. Orwin Smith gained 117 rushing yards and a score on just seven carries. The team as a whole was able to gather 483 yards of total offense.
A shootout was expected between two defenses that had each allowed just over 26 points per game entering this matchup, and that's exactly what it appeared be as the fourth quarter began with the Tigers clinging to a 30-28 lead. After the Jackets' drive to open the fourth quarter was halted and David Scully knocked through a 26-yard field goal to give Tech a one-point lead, Boyd commanded the offense to a 75-yard scoring drive, capped by Hopkins' second touchdown of the game. A two-point conversion followed that score to put Clemson up for good. Down 38-31, the Jackets needed to keep pace in order to stay in the game, but after bobbling the following kickoff and starting at their own 2-yard line, Orwin Smith was stuffed in the end zone after receiving the option pitch, resulting in a safety.
Facing a 40-31 deficit with Clemson controlling the ball, the Jackets had seemingly gotten new life after Daniel Drummond picked off Boyd with just over eight minutes to play. After being stopped at the Clemson 20-yard line, Scully's 37-yard field goal attempt was blocked. The Tigers then ran clock before capping the drive with a Roderick McDowell one-yard touchdown run, his second of the game.
The Jackets get a bye week to help solve their recurring defensive woes, which have plagued them in each of their four losses, all winnable games. They return home to Bobby Dodd Stadium on Oct. 20 to take on Boston College, who has faced similar defensive issues and is also currently riding a three-game losing streak entering a road matchup against Florida State next Saturday. Clemson also has a bye next week before a big home contest in two weeks against Virginia Tech.