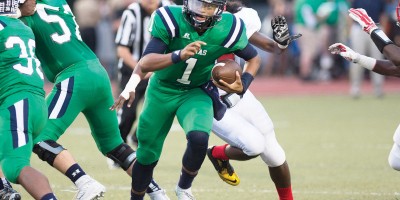 Harrison 42, Creekview 13
How the game was won: Visiting Harrison went up 21-7 with a Justin Fields touchdown run and blew the game open minutes later as Curtis Scott raced in for a 45-yard touchdown run (28-7). Fields opened the scoring with a 60-yard touchdown pass to Steven Peterson and Chris Kalafut capitalized after a Creekview fumble with a 3-yard Harrison touchdown. Fields added another touchdown run before capping off the scoring with an 11-yard touchdown pass to Scott.
Top performers: Justin Fields passed for 250 yards and two touchdowns, while adding two scores and a team-high 53 rushing yards on the ground. Peterson hauled in a game-high 127 receiving yards.
Sequoyah 17, Sprayberry 14
How the game was won: Hakeem Hartford intercepted a pass with 10 seconds to go to seal the win for host Sequoyah. The Chiefs led 14-7 at the half and got a third-quarter field goal to fend off Sprayberry and Trey Sermon's two touchdowns.
Top performers: Zach Stark got Sequoyah on the board in the first quarter with a 4-yard rushing touchdown to make it 7-6 after a botched PAT snap, and Collier Pecht found Patrick Ballance from 12 yards out to make it 14-7 at halftime. Stark rushed for the two-point conversion on the second TD. Wesley Potter made it 17-7 Chiefs in the third quarter with a 24-yard field goal. Sermon scored on a 17-yard run in the first quarter and a 4-yard run in the fourth with 2:37 to play.
Wheeler 35, Pebblebrook 13
McEachern 40, Hillgrove 17
North Cobb 48, Kennesaw Mountain 13
North Paulding 28, Marietta 12
Etowah 41, Lassiter 0
Woodstock 35, Walton 24
Westlake 52, Campbell 6
Dalton 24, Allatoona 22
River Ridge 55, South Cobb 30
Kell 31, Hiram 6
Whitefield Academy 30, North Cobb Christian 6
Walker 28, Gordon Lee 14
Mt. Paran 24, Darlington 22
Photo provided by Adam Carrington