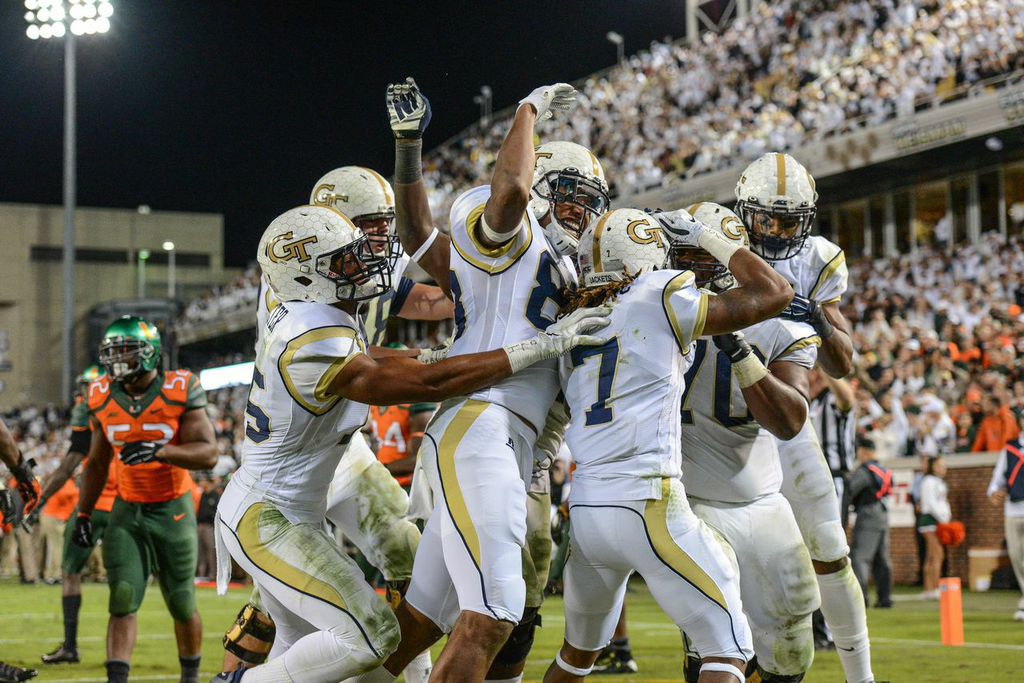 Photo by Jon Barash
Two of the teams have just one loss. The other has that many wins. What Georgia, Georgia Tech and Georgia State almost certainly share, however, is a similar mentality at the midpoint of this college football season. All three schools can kick themselves over lost opportunities here and there, but all three also have plenty about which to be feel good.
Georgia has a loss to South Carolina that is looking worse and worse with each passing week, but it also clobbered Missouri 34-0—on the road, no less—without arguably the best player in the nation. Georgia Tech fell at home to Duke, but it boasts wins over Virginia Tech and Miami. Georgia State has already exceeded its 2013 win total, but it could easily possess three victories right now (two of its losses have come via 34-31 score lines).
So…what to make of what has been a wacky first half of the gridiron season in this state and throughout the entire country? Well, the bottom line for the three teams that matter most around these parts is that they still have everything to play for as they head down the stretch.
IN THE NICK OF TIME …
With a roster highlighted by a heralded quartet of running backs in Todd Gurley, Keith Marshall, Nick Chubb and Sony Michel, no- body could have expected that any one of those four would get 38 carries in a single game. But if one would—in fact—receive such a workload, it would undoubtedly be Gurley. Right? Wrong. Unforeseen circumstances, the only good one of which is Chubb's immediate rise to prominence, resulted in Chubb rushing 38 times last week against Missouri. With Gur- ley suspended and both Marshall and Michel injured, the freshman out of Cedartown High School parlayed his opportunity into 143 yards and a touchdown during Georgia's statement- making rout of the Tigers.
And with that, the Bulldogs' season has effectively become a phoenix rising out of the ashes. They were all but left for dead when Gurley was banned indefinitely by the team for allegedly benefiting from autographed paraphernalia. Suddenly, however, the Dawgs have won four in a row to bounce back in style from the heartbreaker at South Carolina and they have to be feeling more unified as a team than ever after proving they are by no means a one-man show. Factor in a favorable remaining schedule on which its only current ranked op- ponent (Auburn) has to visit Athens and Geor- gia should make it to the SEC Championship if it can get past Florida on Nov. 1.
"We're improving in a lot of areas," head coach Mark Richt assured following a win over Vanderbilt earlier this month. "Defensively we're getting closer to communicating the things we need to do and we're executing better. We're getting more confidence. We've got a chance to keep improving as a football team. If we do that, we've got a chance to get back to Atlanta."
BEDEVILED BUT STILL BUZZING …
Similarly, Georgia Tech has a shot at making it to Charlotte for the second time in three years despite last weekend's disappointment. After three winning but lackluster performances against non-conference competition, the Jackets reached new heights and seemingly took control of the ACC Coastal by posting a dramatic 27-24 victory at Virginia Tech and a 28-17 defeat of Miami. Last Saturday, though, they were hit with a reality check in the form of a 31-25 setback against Duke. At 5-0, the schedule had set up nicely for Tech to possibly be 10-0 heading into a Nov. 15 date with Clem- son. Now it's time to go back to the drawing board and take things one game at a time in an effort to get back on top of the Coastal.
As many expected heading into the sea- son, this team is not consistent enough in any phase of the game to have grandiose visions of an undefeated season and berth in the Col- lege Football Playoff. Georgia Tech is eighth in the nation with 294.7 rushing yards per game, but quarterback Justin Thomas is completing fewer than 50 percent of his passes, has been picked off three times (twice against Duke) in 87 attempts and the team has lost four fumbles. Tech's defense showed up versus the Hokies and Hurricanes, but the unit is 12th in the ACC in total defense, 10th in scoring defense and last in sacks. Harrison Butker nailed a game-winning field goal to beat Virginia Tech, but he has missed four times in 10 tries— including three from less than 40 yards.
"We're still great in the standings and in a good position," senior linebacker Quayshawn Nealy said following the loss to Duke. "My role is going to be to encourage guys to keep their heads up. We just have to work on the little things so we can make the big things happen." Big things are still possible and can mean just as much for Georgia State, even if they do not come in the form of a conference title and major bowl bid. An attainable goal, for example, would be to score the first win over an FBS opponent in the program's history. The Panthers have already done well to win a game, 38-37 over Abilene Christian in the opener to erase a 16-game losing streak dating back to last October.
Led by junior quarterback Nick Arbuckle, who has four pass-catchers already with at least 24 receptions this season at his disposal, GSU has enough offensive talent to win games on a more consistent basis. In addition to two setbacks by three points, it also fell 48-38 to Air Force and took a stunning 14-0 lead into half- time at Washington before the Huskies rolled. A problem for the Panthers, who still get to play the three worst teams in last year's Sun Belt Conference standings, is that they have allowed at least 34 points in all six of their outings.
Not unlike the few problems plaguing Georgia and Georgia Tech, it is something that can be overcome during what should be an extremely interesting second half of the 2014 campaign.