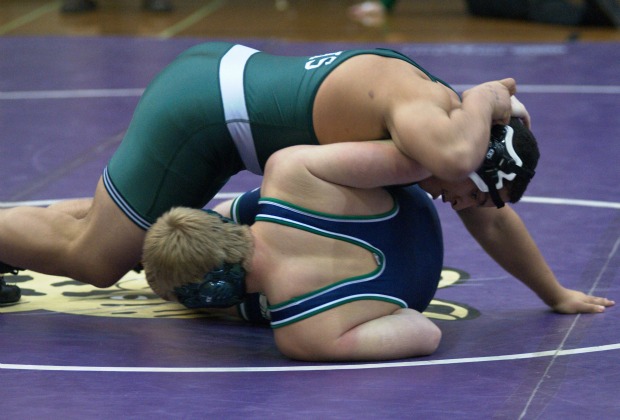 Collins Hill High School
The Alexander Duals were held over the weekend with several of the state's top teams taking part in the classic event. Class AAAAAA No. 1 Collins Hill defeated Class AAAA No. 1 Alexander in the finals 37-35 to take the crown. New No. 9 Parkview made a nice showing, finishing third. The Panthers beat Class AAAA No. 8 Carrollton and Douglas County to finish second in their pool, behind Collins Hill. Class A No. 1 Gordon Lee also took park in the event.
Meanwhile at the Lanier Duals, new Class AAAAAA No. 10 Mountain View posted a strong showing by beating Class AA No. 3 GAC en route to the title. The Spartans finished third in the event while Berkmar was fifth.
Wrestling USA Magazine revealed its Georgia All-Classification top 10. Collins Hill sat atop the list, followed by Class AAAAAA No. 2 Archer. Pope, the top team in Class AAAAA was No. 3, followed by Class AA No. 1 Jefferson and AAAA No. 2 Gilmer.
Class AAAAAA
1. Collins Hill
2. Archer
3. Camden County
4. Kennesaw Mountain
5. Brookwood
6. Lowndes
7. North Gwinnett
8. Milton
9. Parkview
10. Mountain View
Class AAAAA
1. Pope
2. Loganville
3. Whitewater
4. Clarke Central
5. Kell
6. Ola
7. Union Grove
8. Paulding County
9. Harris County
10. Ware County
Class AAAA
1. Alexander
2. Gilmer
3. Marist
4. Heritage-Catoosa
5. Locust Grove
6. Eastside
7. Cedartown
8. Carrollton
9. Dalton
10. West Laurens
Class AAA
1. Jackson County
2. Blessed Trinity
3. Woodward Academy
4. Elbert County
5. Buford
6. Oconee County
7. North Hall
8. McNair
9. North Oconee
10. Adairsville
Class AA
1. Jefferson
2. Bremen
3. GAC
4. Lovett
5. Calhoun
6. East Laurens
7. Toombs County
8. Dublin
9. Washington-Wilkes
10. Bowdon
Class A
1. Gordon Lee
2. Holy Innoncents'
3. Commerce
4. First Presbyterian Day
5. George Walton Academy
6. Darlington
7. St. Francis
8. Athens Christian
9. Towns County
10. Charlton County