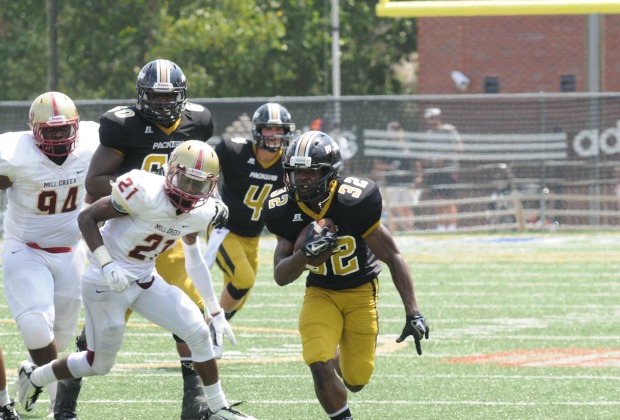 Terance Johnson
Colquitt County overcame a four-point halftime deficit to defeat Mill Creek 31-14 in the second game of Saturday's Metro PCS Corky Kell Classic action at McEachern.
The Packers fell behind 14-10 late in the second quarter after getting burned by a trick-play touchdown pass, but the Packer defense held Mill Creek scoreless in the second half with only 92 total yards the rest of the way.
"I thought we were reeling a little bit (at halftime)," said Colquitt head coach Rush Propst. "We weren't playing all that well. We get up 10-0 and they come right back, bam. Then they hit us with the trick play and that stunned us a little bit."
Colquitt struck immediately in the second half, scoring on its first possession on an impressive bobbling catch by Kiel Pollard on a 12-yard pass from Chase Parrish, giving the Packers back the lead at 17-14. The drive, which took just over two minutes, was set up by a Qwazavia Lee kickoff return to the Mill Creek 42.
The teams would fight a field-position battle with five straight punts until a minute into the fourth quarter, when Colquitt embarked on an 89-yard drive capped off by a 36-yard touchdown run by Sihiem King, who led all rushers with 124 yards on 26 carries.
A turnover on downs by Mill Creek on its next possession with 7:32 remaining to play set up the game's final score, a 37-yard touchdown run by Rafael Merritt just over three minutes later.
Parrish finished the game 20-for-29 passing for 256 yards and the touchdown to Pollard, who reeled in 144 of those yards.
In the midday heat — the temperature was 88 degrees at McEachern's Cantrell Stadium at the 11:55 a.m. kick — Propst credited his team's strong conditioning for the Packers' second-half surge.
"We came out in the second half and I think the difference in the ball game was our conditioning," Propst said. "We do such a great job in conditioning our kids. We played a number of kids today, and that's something we've started doing a little more.
"We probably played 50-plus kids today. I don't know how many Mill Creek played, but I know they wore down in the fourth quarter."
De' Barge led the Colquitt defense with 7.5 tackles.
Colquitt County struck in the first quarter with a 4-yard Lee touchdown run and took a 10-point lead after Luis Martinez made a 25-yard field goal with 6:43 left in the first half. Mill Creek answered right away with an 80-yard touchdown drive. Daniel David hit wide receiver Micah Pulley on a fade to the corner of the end zone to make it a 10-7 game with 3:17 left in the half.
The Hawks' defense responded with a three-and-out, and a short Packer punt gave Mill Creek possession at its own 48. Then, head coach Shannon Jarvis dialed up some trickery on the very next play.
On a handoff disguised as a sweep, the Hawks then reversed the ball and pitched it back to David, who had a wide-open David Curry deep down the field. Curry came back to the ball to ensure the completion and scampered into the end zone to give Mill Creek its first lead, 14-10, with 1:40 left in the half.
David finished 14-for-24 passing for 193 yards.
Despite the change from the usual Kell Classic venue of the Georgia Dome, Propst had nothing but praise for McEachern as host.
"I am very proud of McEachern High School and what (event organizers) Jim Dorsey and Dave Hunter have done to make this thing be a success."