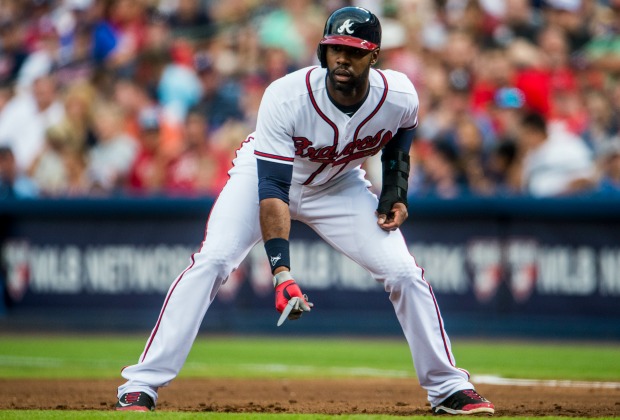 Photo by Pouya Dianat/Atlanta Braves
By recent Braves' standards and in a division that is separated by just 1.5 games at the top (Atlanta to Washington) and by five games from top to bottom (Atlanta to New York), three wins in a row counts as a "streak"—and an important one, at that. The Braves have done just that, salvaging a series at St. Louis on Sunday before taking the first two of a four- game home series against Milwaukee. They are now a respectable 8-4 since their brutal seven-game losing streak earlier this month.
The current three-game surge started from just about out of nowhere. Atlanta had lost three in a row and was trailing at St. Louis 5-4 going into the ninth inning on Sunday. Needing a win in the worst way, the Braves rallied for two runs on two hits—a single by Freddie Freeman and a two-out double by Ryan Doumit. Walks to Evan Gattis (intentional) and Jordan Schafer brought in Freeman and Dou- mit scored the eventual game-winner on a wild pitch by Carlos Martinez, who had relieved Trevor Rosenthal. Craig Kimbrel closed out the Cardinals in the bottom of the ninth with little trouble.
"It's big," Freeman said in his post-game interview. "I don't know if you can say it was a must-need win, but it's definitely nice to get one. And going back to our home crowd, hope- fully this can give us some momentum going against the Brewers, who are playing unbelievable baseball. We have a tough four-game series but at least we have some momentum and salvaged at least one win against the Cardinals."
BATS COME OUT … The Brewers certainly are not playing un- believable baseball against Atlanta this season. Each of the first two games of this week's series went the Braves' way as they improved to 4-1 versus Milwaukee so far in 2014. The home team pounded out 15 hits in a 9-3 victory on Monday before cruising to a 5-0 win on Tuesday. Atlanta has scored 20 runs in its last three games heading into Wednesday's third of four contests with the Brewers.
This is the Braves' largest three-game haul since it crossed the plate 32 times in a four-game stretch April 11-14. Justin Upton (.288, 12 HRs, 25 RBIs) has heated up with home runs in three consecutive games. The left fielder also has five hits, six RBIs and four runs scored in his last three.