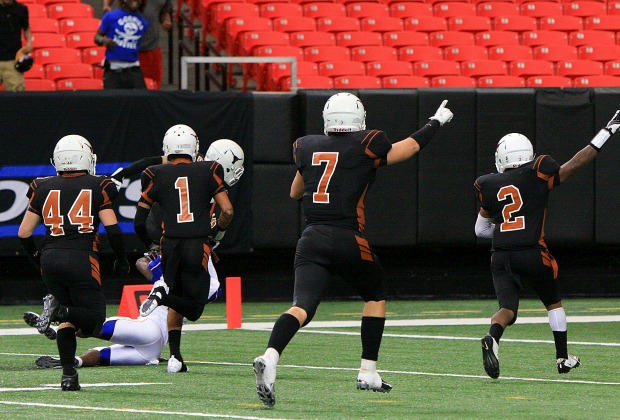 Sonny Kennedy
Kell had three football coaches in its first five years as a varsity program, according to GHSFHA.org. But since 2008, the Longhorns have employed just one: Derek Cook. The University of Georgia graduate easily became Kell's most successful head coach and currently holds a 45-14 record at the northeast Cobb County high school.
Last season, Kell went undefeated in games against Class AAAAA foes until the playoffs when the Longhorns lost to eventual state champion Gainesville in the second round. The 61-42 final score is a bit misleading, as Kell led 35-21 at the half. While the Red Elephants and star quarterback Deshaun Watson are the favorites to repeat, Kell is focused on the business at hand.
"We're aware of Gainesville," said Cook. "We had a great game against them last year and we probably had that one in our hands and let go of it. Of course that's a great player over there (Watson), but that's so far down the road. … We know they're there, but it's got to all line up perfectly for us to match up with them again at some point."
For now, Kell is looking forward to its game against Chattahoochee in the Metro PCS Corky Kell Classic. Cook's bunch defeated the Cougars last year in the event 19-8. While most high school football games generally start as the sun is setting, the Longhorns' game against Chattahoochee kicks off at 9 a.m. Cook has a plan for the odd start time.
"What we've been doing the last several Saturdays is bringing them in and practicing at 8 a.m. Saturday morning, so their bodies are not in shock and more importantly their minds," Cook explained earlier in August. "On gameday, they're going to be up at 5:30 a.m. eating breakfast, so it won't be an issue that day either."
One issue Kell does have is replacing defensive backs Brendan Langley and Quincy Mauger, each of whom also played on offense for the Longhorns. Cook is confident in their replacements. One of those is safety Taylor Henkle, a Kennesaw State commitment.
"The DBs are pretty well the same other than the names on the backs of their jerseys," said Cook. "The guys we have are not SEC-caliber (recruits), but they're great high school players."
Quarterback Matt McGuigan returns to lead the Longhorns' offense, which had a strong showing at the Georgia Invitational 7-on-7 tournament.