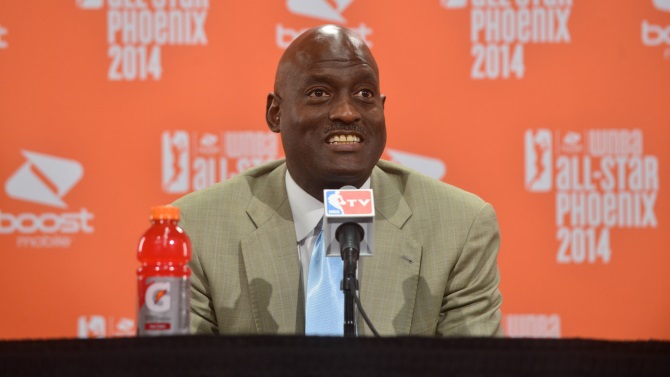 Barry Gossage/NBAE/Getty Images
Sunday was a huge day for the Atlanta Dream in many different facets. Michael Cooper returned to the bench sooner than most expected to coach the Dream after missing five games following his diagnosis of tongue cancer. Although the players were glad to see their leader back, they were not able to beat a New York Liberty team that is in the thick of an intense battle for an Eastern Conference playoff spot.
Tina Charles led the way for the Liberty, scoring 29 points and grabbing 14 rebounds in another dominant performance as New York prevailed 83-76. Charles has been the main catalyst for the Liberty all year, averaging approximately 18 points and 10 rebounds per game. Head coach Bill Laimbeer will likely ride his star player in hopes of securing a playoff berth. For Atlanta, Angel McCoughtry is the league's third leading scorer was at it again with a team-high 28 points against the Liberty. The Eastern Conference-leading Dream (17-11) have faltered of late, losing six of their last eight games, but they still hold a 4.5-game lead over Indiana with eight contests remaining in the season.
PLAYOFF BERTH CLINCHED …
The Fever lost on Saturday night to league-leading Phoenix, a result that assured the Dream of a place in the playoffs. Atlanta, the youngest franchise in the WNBA having entered in 2008, has now qualified for the playoffs in six straight seasons and will look to defend its Eastern Con- ference crown. The Dream will try to accomplish their dreams of winning the WNBA title but will have to get over their past struggles at the biggest stage. Atlanta has been swept in the finals three of the past four years, going 0-9 in those series. Last season saw Atlanta's hopes dashed by Georgia native Maya Moore and the Minne- sota Lynx. The Collins Hill High School product has established herself as the best player in the sport, averaging almost 25 points per game this season.
The Dream, however, cannot be looking ahead to the playoffs. If the postseason began today, they would be facing the Liberty—who have beaten the Dream in three of four head- to-head meetings in 2014. Atlanta's next game pits the club against the 24-4 Phoenix Mercury. That contest kicks off a four-game road trip, which also includes stops in Seattle, Los Angeles and Chicago before Atlanta returns home to face the Mercury on the 13th.