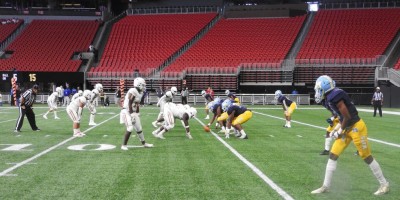 ATLANTA — After replacing its quarterback and several key starters from last year's team, Kell did not skip a beat while displaying several emerging stars in its 17-12 victory over Mays in the first game of the Metro by T-Mobile Corky Kell Classic at Mercedes-Benz Stadium on Saturday.
Jitters got the best of the Kell offense in the first quarter and both teams struggled to find a rhythm on the offensive side. But, that was expected and planned for, according to coach Brett Sloan.
"It was just jittery, sloppy," Sloan said of the scoreless first quarter. "And (Mays) is really good on defense, guys. They're big and fast. And any offensive mistakes are magnified when you have a team with that type of athleticism and speed out there."
Kell struck first with a 21-yard pass from quarterback Corbin LaFrance to Jamal Hill with 7:20 left in the second quarter and Colby Kerns' extra-point gave the Longhorns a 7-0 lead.
"We kind of figured some things out and we calmed down," said Sloan. "Corbin really calmed down the later we went on in the game. Which I anticipated and I intentionally kind of protected him a lot early in the game. Or, at least, I was conservative with the play-calling early in the game. It's his first game he's started. So I didn't want to throw him in the fire."
Mays added a score with 1:16 left in the third quarter on a 29-yard pass from Drew Banks to Zaire Thornton but the extra point sailed wide. Kell responded just minutes into the fourth quarter on a 33-yard pass from LaFrance to freshman David Mbadinga to take a 14-6 lead.
"I just have to say, I'd like to thank my offensive line," Mbadinga said, laughing, after a coach leaned in mid-interview to tell him to always thank his offensive line. "But it really is quite easy to run behind them when you have a line like that. You don't have to worry about defenders coming from this way or that way, unblocked. There's always some open field. As a freshman coming in, I knew I was going to get some kind of reps. But I didn't know I would get this much and do this well."
Mbadinga finished the game with 18 carries for 109 yards and the one touchdown reception for 33 yards.
"He is just different," Sloan said of Mbadinga. "He is not intimidated by anything. That's special. He just has it upstairs also. A lot of those young guys can't handle things like he can. He's been playing a lot of the All-Star games and has traveled all over the country. We are really excited to have him."
Kell added a 20-yard field goal from Kerns with 5:56 left in the game to push the lead to 17-6 before Mays found the end zone on an 11-yard pass from Banks to Thornton but time ran out.
LaFrance was 11-of-18 passing for 162 yards and two touchdowns. Hill caught three passes for 28 yards and a touchdown. Banks was 15-of-29 passing for 194 yards and two touchdowns with one interception.
"Being in the dome for my first game, it was a good experience," Mbadinga said. "I'll never forget this."