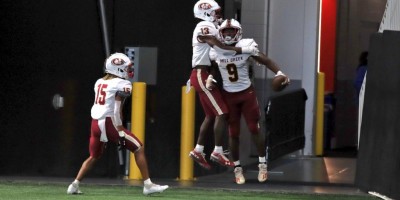 @PaFootballNews
Mill Creek did not look like an unranked team during its 43-10 romp of Parkview at Mercedes-Benz Stadium in the Corky Kell Classic Saturday but an early safety and a 56-yard field goal from Trace Butcher motivated the Hawks to move past the Class 7A No. 5 Panthers.
The Hawks led 16-0 after the first quarter, 26-7 at the half and 43-7 entering the fourth quarter as it dominated all facets of the game.
"Any time you can get a win against a team like Parkview, it's just great," said Mill Creek coach Josh Lovelady. "It is great for you confidence. I think we had some things go our way."
And things did go Mill Creek's way. With 9:03 left in the first quarter, the Hawks defense forced a safety to get on the board. Donovan Journey added to the lead with a 10-yard touchdown run and when Caleb Downs caught a 13-yard pass from Hayden Clark for a touchdown, it put the Hawks up 16-0.
In the second quarter, with 4:50 left, Mill Creek faced a decision to feather a punt or allow Butcher a chance to stretch his legs and attempt a 56-yard field goal. The snap and hold were flawless and when the ball left Butcher's foot, the trajectory was nearly perfect — if a little short. However, the football carried exactly enough, bounced on the cross bar and careened through the uprights to put Mill Creek up  19-0.
The damage, however, was done and Parkview couldn't recover from the fired-up Hawks. The Panthers did respond with a 41-yard touchdown run by Khyair Spain minutes later. But Mill Creek scored three unanswered touchdowns — and another Butcher field goal (31 yards) — to overwhelm Parkview. Clark passed to Branden Jenkins (78 yards) and Trajen Greco (23 yards) to complement a 2-yard touchdown run from Donovan Journey in the flurry. Carlos Munoz kicked a 26-yard field goal with 10:27 left in the game but Parkview was held scoreless from that moment on.
"Our kids played fast," said Lovelady. "That is what they wanted to do. They attacked and they had a good time. Parkview, they are young. You watch out, they will be there in the end."
Clark was 14-of-24 passing for 235 yards and three touchdowns. Jenkins has two receptions for 86 yards, Downs had two receptions for 15 yards and Greco had one reception for 23 yards.
Colin Houck was 14-of-27 for 247 yards for Parkview. Spain finished with two carries for 42 yards and a touchdown.