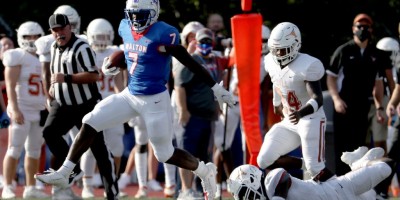 Jason Getz
The Atlanta and North Georgia Building Trades Council Corky Kell Classic is set to kick off the upcoming Georgia high school football season for a 30th time, bringing about some of the most highly anticipated matchups in event history.
The games will start on Wednesday, Aug. 18 and run for four days, featuring 11 games aired live on PeachtreeTV and digitally on CBS46.com and the National Federation High School Network.
The 11 games will be played at five host sites, beginning on Wednesday at West Forsyth High School with Cherokee facing Mays and Carver-Atlanta going up against the host Wolverines. Then Thursday at Dacula High School, Westlake will take on Archer and Tucker will play the host Falcons. Friday's games will be at two sites, the first in Gainesville as Johns Creek faces the Red Elephants and then Buford travels to North Cobb to take on the Warriors. The games will conclude on Saturday at Mercedes-Benz Stadium, starting with Kell against McEachern, followed by Parkview playing Mill Creek and Walton going up against Lowndes. The two night games will feature North Gwinnett against Hoover (AL) and Brookwood facing Collins Hill.
During last year's Corky Kell, the ongoing concerns surrounding the Covid-19 pandemic created a new environment for the event to operate in. While the Classic was still able to put on nine games, they were all played at separate high schools with limited seating for fans. This year, the Classic aims to return to normality, Covid-pending.
"This is our 30th anniversary," said Corky Kell Classic executive director Dave Hunter. "I don't know that we've ever had a more competitive lineup in any of the previous years. Particularly the games at Mercedes-Benz Stadium. After all we have been through in 2020, we are so excited to be able to continue the Corky Kell in a normal environment."
One of the stirring matchups to be played this year will be the game between Hoover and North Gwinnett at Mercedes-Benz Stadium. As perhaps Alabama's most successful high school football program, Hoover will represent the first out-of-state team to play in the Corky Kell after not being permitted to travel to Atlanta last year due to a schedule conflict stemming from Covid-19.
"We've got Hoover coming in from out of state," said Hunter. "It'll be the first time we've had an out of state team and we're so excited to have them. I saw a picture yesterday when I was looking through some things trying to clean up. It was a picture of me, Emmett Lawson, who was the first principal at Brookwood, and Steve Spellman, who was the Gwinnett County athletic director at the time. We were all standing in the upper deck of the Georgia Dome while it was still being built. Thirty years later, here we are playing at Mercedes-Benz Stadium. Playing at one of the best stadiums in the world. I'm sure that ol' Corky (Kell) is looking down and is proud of us. Puts those 30 years into perspective."
The first Corky Kell games were in 1992 and matched up McEachern and Brookwood, and Newnan and Southwest Dekalb in the Georgia Dome, the first football games played in the new stadium.
Though last year's Corky Kell games were able to be played, there is no doubt that those involved are ready to return to form which would include such offseason work as spring practice, which was cancelled last year.
"I don't think there is an event in high schools in the entire country like the Corky Kell," said Score Atlanta President and Corky Kell executive I.J. Rosenberg. "The fact that we were able to make it through last season, doing the event at nine different locations, makes this year even sweeter."
This year's games are set to showcase some of Georgia's top programs, with 21 of 22 participating teams advancing to the playoffs last season. Of these teams, West Forsyth, Carver and Parkview all made it to the quarterfinals while Westlake, Lowndes and Hoover all advanced to the semifinals. Collins Hill advanced to the Class 7A State Championship game, and Buford won a consecutive state title after reclassification put the Wolves in Class 6A.
 "I think a number of great athletes that will play in these games will be playing on Saturdays at some of the top college football programs in the nation," said Rosenberg. "I also think you'll see a few of them move on to play in the NFL. The talent is really endless in this year's Corky Kell and everyone has the change to see it, whether they come to the games or watch it on TV. Shoot, even Grandpa Joe from South Dakota can see it digitally. What's amazing about the broadcast is the number of those, especially in the military, that will watch the games overseas. And to have the support of CBS46 and all their resources is huge. They will be doing previews and promoting the games during the summer.''
The Classic will also include a 7-on-7 tournament this summer as well as player and coaches ceremonial luncheons the week before the games. Also, because of Corky's 30th year in existence, there will be special ceremonies at each game honoring some of the best players who have participated in the event.
Here is the schedule for the Atlanta and North Georgia Building Trades Council Corky Kell Classic:
*Home teams on the left-hand side*
Wednesday, August 18 at West Forsyth
5:30 p.m. Cherokee vs. Mays
8:30 p.m. West Forsyth vs. Carver-Atlanta
Thursday, August 19 at Dacula
5:30 p.m. Westlake vs. Archer
8:30 p.m. Dacula vs. Tucker
Friday, August 20 at Gainesville
5:30 p.m. Gainesville vs. Johns Creek
Friday, August 20 at North Cobb
8:30 p.m. North Cobb vs. Buford
Saturday, August 21 at Mercedes-Benz Stadium
9:00 a.m. McEachern vs. Kell
11:45 a.m. Parkview vs. Mill Creek
2:45 p.m. Lowndes vs. Walton
5:45 p.m. North Gwinnett vs. Hoover (AL.)
8:45 p.m. Brookwood vs. Collins Hill