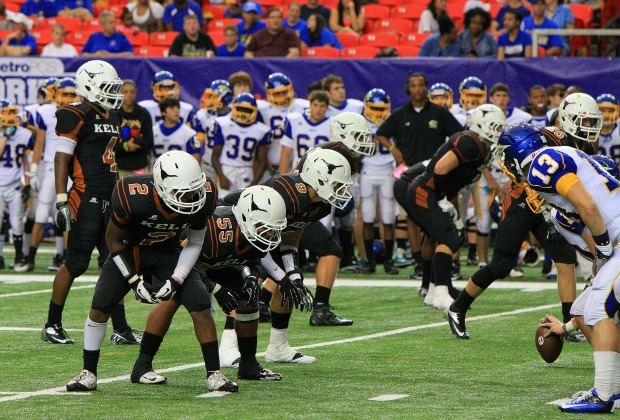 Sonny Kennedy
Bright and early on Aug. 24, Kell and Chattahoochee will get the 2013 Metro PCS Corky Kell Classic started at 9 a.m.
Chattahoochee, under new head coach Mike Owens, will run a variety of formations and schemes this year on offense and defense. The Cougars will line up in the pro-style set, using both an empty backfield and with up to two backs. Defensively, Owens will have his unit line up in the 4-3 as well as the 3-5.
The Cougars' defense is led by junior linebacker Josh Weisburg. Taz Wilson will quarterback the offense and look for wide receiver Collin Lisa to make big plays.
Kell is a spread team that flourishes on slashing runs by backs and short passes that turn into big plays through the air. Defensively, the Longhorns have been consistently stout under coach Derek Cook. Quarterback Matthew McGuigan returns from a 2012 season in which Kell lost in the second round of the playoffs despite scoring 42 points on eventual state champ Gainesville.
McGuigan will try to find senior wideouts Darian Harris and Julian Burris. The offensive line is led by senior Donnell Greene. Defensively, the Horns will depend on safety Taylor Henkle to help fill the shoes of Brendan Langley and Quincy Mauger, who both signed with Georgia after last season
It is Kell's fourth straight appearance in the Metro PCS Corky Kell Classic and the second year in a row the Horns will face Chattahoochee in the event. Last year, Kell's defense held the Cougars to just one score in a 19-8 affair at the Dome. Kell had played Grayson the previous two years at the Classic, with each team winning one.
"The Hooch" is in its fourth Metro PCS Corky Kell Classic, but is still looking for its first win in the event. The 2010 Class AAAA state champions, however, have made the playoffs three straight years and have won region titles in two of the past three seasons.
Cook, a Marietta native who attended Etowah, has been at Kell since 2008, and the Longhorns have gone 45-14 with five consecutive state playoff appearances in that period. Kell has been playing football for 10 seasons, including this year. Cook also coached for South Cobb from 2006 to 2007 where he led the Eagles to the playoffs in his first season.
Chattahoochee took the next step in its football history on March 1 when it hired former Brookwood defensive coordinator Mike Owens to replace former head coach Terry Crowder, who is now at Creekview. Owens was head coach at Peachtree Ridge from 2003-2004 when he led the Lions in their first two varsity seasons.