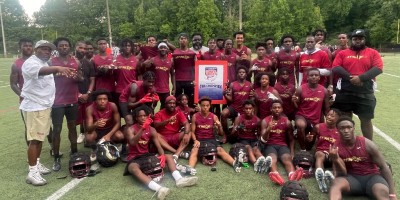 Through heat and a grueling day at the eighth annual Corky Kell 7-on-7 Tournament at Roswell Area Parks, Creekside finished atop the 40-team field  and beat Kennesaw Mountain 20-0 to take the title.
"It just takes a lot to win one of these things," said Creekside head coach Maurice Dixon. "It's really like a marathon. For us, we have been working in practice with our conditioning and practicing when it is hot outside. Because, in these tournaments, you know the championship game will be played late in the afternoon."
Against Kennesaw, a team which Creekside was familiar having seen in a previous contact camp, Creekside showed off its stifling defense and kept the Mustangs at bay.
"I think they know we have a championship defense," Dixon said. "Anytime the game is close and we have to rely on the defense, I am comfortable because I know the guys work hard and are coached very well."
After playing in morning pool play which seeded the afternoon brackets, Creekside beat Alpharetta 28-20, Centennial 28-4 and Marietta before entering the finals bracket. In the first game of the finals bracket, the Seminoles weathered a closely contested game against Mays 24-23.
"The biggest key was that our kids kept fighting." Dixon said. "We knew in the end we would make a play and we did. Daiqan White made a great play at the goalline to win that game."
In the semifinals of the finals bracket, the Seminoles beat Lambert 26-18 to secure its berth in the championship game against Kennesaw Mountain.
"The MVP of the Lambert game was Roderick McCrary," Dixon said. "Lambert had a tight end that had been killing everybody. I told Roderick before the game to take that kid out of the game. I think he held him to one catch."
The Mustangs defeated Fellowship Christian 25-0 and Grayson 27-25 to earn the championship berth.
The rise of summer 7-on-7 tournaments has been immense over the past decade and according to Dixon, it really is changing the game of football at the high school level right before our eyes.
"Moreso than ever," he said. "A lot of teams in Georgia have developed strong passing games and that comes from participation in these tournaments. It allows teams to develop chemistry for receiving corps that is really good to have and you might not get in the spring. If you tried to put in a new passing offense in the fall, you never get the reps in."
Creekside finished 11-3 last season and advanced to the Class 6A semifinals before losing to Warner Robins, Dixon's most-successful season leading the Seminoles.