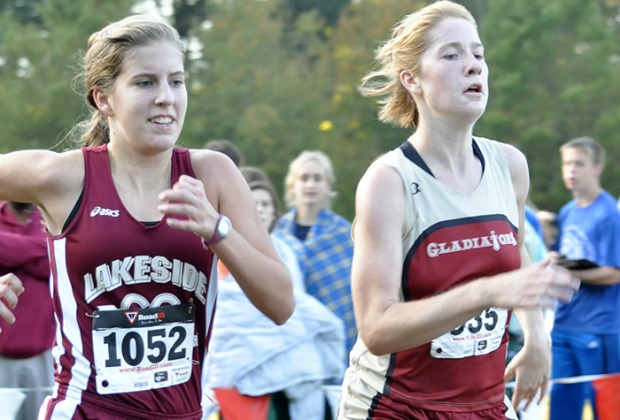 Photo by Walter Pinion
The Centennial boys won the Asics Invitational at Alexander and moved into the Class AAAAAA poll at No. 8. Previously No. 2 Milton, however, dropped to No. 5 after a third-place showing at the meet. The Centennial girls completed the Knights' sweep at Alexander and debuted at No. 8.
Oconee County won the Class A-AAAA meet at the Asics Invitational and jumped up in the Class AAA rankings to No. 5.
Lowndes snuck into the boys Class AAAAAA poll with a win at the Tift Invitational, while the Vikings girls also won and moved up a spot to No. 7 in the girls poll.
The Etowah boys won the Cherokee County championships and improved their standing in the Class AAAAAA poll to No. 9. Meanwhile, Woodstock won the girls race in the Cherokee meet and moved into the top five.
In Class A, Athens Christian won the Viking Invitational boys meet at First Presbyterian and moved into the hosts spot at No. 5.
Boys
Class AAAAAA
1. Mill Creek
2. Norcross
3. Walton
4. Brookwood
5. Milton
6. Marietta
7. Harrison
8. Centennial
9. Etowah
10. Lowndes
Class AAAAA
1. McIntosh
2. Lakeside-Evans
3. Pope
4. Winder-Barrow
5. Flowery Branch
6. Union Grove
7. Lakeside-DeKalb
8. Starr's Mill
9. Richmond Hill
10. Southwest DeKalb
Class AAAA
1. Marist
2. Perry
3. Wayne County
4. Alexander
5. Sandy Creek
6. Pickens County
7. Eagle's Landing
8. Hephzibah
9. Chamblee
10. Westover
Class AAA
1. Woodward Academy
2. St. Pius
3. North Hall
4. Hart County
5. Oconee County
6. Cartersville
7. Blessed Trinity
8. Chapel Hill
9. North Oconee
10. West Hall
Class AA
1. Westminster
2. Wesleyan
3. Bleckley County
4. Lovett
5. Murray County
6. Jefferson
7. Benedictine
8. Greater Atlanta Christian
9. Oglethorpe County
10. Pepperell
Class A
1. Athens Academy
2. Darlington
3. Galloway
4. Holy Innocents'
5. Athens Christian
6. First Presbyterian
7. Pace Academy
8. Landmark Christian
9. Hebron Christian
10. Mt. Paran
Girls
Class AAAAAA
1. Milton
2. Walton
3. Brookwood
4. Roswell
5. Woodstock
6. Peachtree Ridge
7. Lowndes
8. Centennial
9. Etowah
10. Lassiter
Class AAAAA
1. Winder-Barrow
2. Flowery Branch
3. Lakeside-Evans
4. McIntosh
5. Dunwoody
6. East Paulding
7. Whitewater
8. Union Grove
9. Starr's Mill
10. Lakeside-DeKalb
Class AAAA
1. Marist
2. Alexander
3. Heritage-Catoosa
4. Chestatee
5. Pickens County
6. Lanier
7. Eagle's Landing
8. Veterans
9. River Ridge
10. Carrollton
Class AAA
1. St. Pius
2. Blessed Trinity
3. White County
4. Woodward Academy
5. North Hall
6. Chapel Hill
7. North Oconee
8. Central-Carrollton
9. Grady
10. Jackson County
Class AA
1. Westminster
2. Wesleyan
3. Lovett
4. Jefferson
5. Bleckley County
6. Greater Atlanta Christian
7. Bremen
8. Thomasville
9. Pelham
10. Coosa
Class A
1. Landmark Christian
2. Darlington
3. First Presbyterian Day
4. Athens Christian
5. Holy Innocents'
6. Providence Christian
7. Athens Academy
8. Whitefield Academy
9. Mount Pisgah
10. George Walton Academy