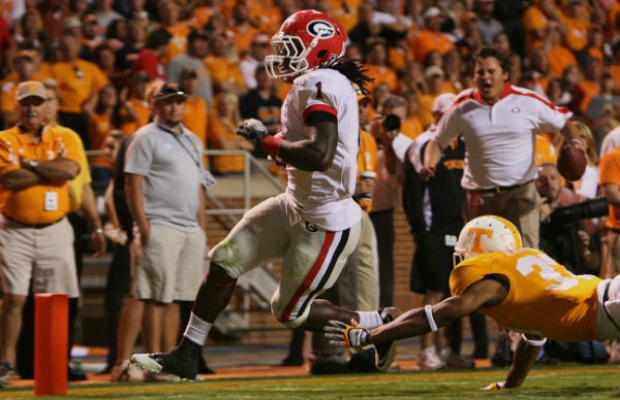 Rob Saye
Another offseason, another arrest of a Georgia star.
The arrest of Isaiah Crowell early Friday morning has resulted in the talented sophomore being kicked off the Georgia Bulldogs football team for good. A five-star recruit who had a scholarship offer for about every touchdown he scored in high school may have burnt his proverbial lottery ticket for carrying concealed weapons in his car.
Why a big-time college football player with NFL potential would be transporting weapons in a car after midnight is anyone's guess. But for those who have followed Crowell's career at Georgia, yet another major mindless mishap does not come as a surprise.
After the dismissals of Washaun Ealey and Caleb King prior to last season and Carlton Thomas' transfer in March, the Dawgs could have done without this. The same school that produced Herschel Walker, Garrison Hearst, Terrell Davis, Robert Edwards and Knowshon Moreno can't seem to keep a productive running back in good standing for long.
The latest crisis involves the Dawgs' leading rusher from 2012. After Crowell's dismissal, here is who the Dawgs will have to work with come fall practice:
Ken Malcome – Started two games in 2011, played in six. Quit the team midseason before having second thoughts and returning. Rushed for 174 yards on 42 carries.
Brandon Harton – A former walk-on who filled in for the Bulldogs after various suspensions and injuries last season. Played in five games and totaled 247 rushing yards on 53 carries. Rushed for 101 yards against Kentucky.
Kyle Karempelis – Sophomore walk-on from the Wesleyan School. Played in two games last season, netting 63 yards on 12 carries.
Richard Samuel – Former running back, linebacker and running back again, now at fullback. Could potentially be moved back to RB due in a depth crisis. Rushed for 240 yards on 82 attempts last season with a score. His lone TD came during a heroic performance in the win over Florida.
Keith Marshall – 5-foot-11, 200-pound true freshman. Did himself and the program a huge service by enrolling early and competing in spring practice. Will be counted on to contribute at RB regardless of Crowell's status.
Todd Gurley – 6-foot-1, 215-pound true freshman from North Carolina. Will compete for playing time in fall practice.
The Dawgs possess depth at running back, but are once again going into the season with the starting job in flux and will again depend on true freshmen to be heavy contributors.
Georgia will likely rely on Malcome to start the season, then insert Marshall and/or Gurley into the rotation. Don't be surprised to see Harton getting carries or Samuel moved back to RB.
The Missouri road trip for Game 2 now looks like it could be a catastrophe for a program picked by many to win the division and finish in the top 10. Due to yet another offseason filled with transgressions, Georgia's championship hopes could crash before ever getting off the ground.