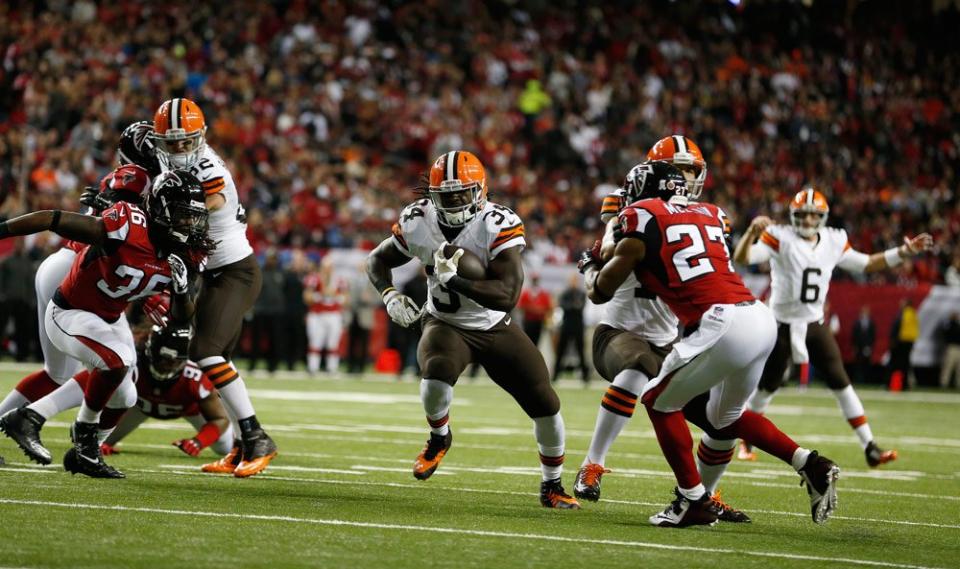 ClevelandBrowns.Com
It has been a long road for former Georgia Bulldogs running back Isaiah Crowell trying to reach the NFL. After a strong 2011 season in Athens, it was off the field issues that forced him off his home state's college football team.
Crowell helped the Browns to a 26-24 win over the Falcons on Sunday afternoon in his homecoming to Atlanta. His two touchdowns and 88 yards on 12 carries helped Cleveland move to 7-4 on the season and made the Falcons fall to 4-7.
An offseason weapons charge back in the summer of 2012 is what forced Crowell off the program. Since then, he finished up his career at Alabama State. Like most players in his situation, Crowell went undrafted in May and then found himself with an opportunity to try and make the Cleveland Browns roster as a free agent.
Since joining the Browns, Crowell has put up 358 yards rushing and scored five touchdowns this season. One of his last games at Georgia was inside the Georgia Dome in the 2011 SEC Championship Game. So, it was only fitting that he come back and play the way he did on Sunday. His head coach Mike Pettine knows what this game meant to his rookie running back.
"I think this was a big game for him," Pettine said. "I think he had 30 or 40 people in the stands. I know it cost him a few dollars ticket wise. He was pumped up, that's one of the reason's I made him a captain. I though he ran hard and that (26 yard touchdown run in the 3rd quarter) was probably our best run of the year."
Crowell has made it to the league after what some might have called a missed opportunity at Georgia. Since entering the league with the Browns, Crowell has seemingly made the most of his opportunities.
Earlier this week, the Browns released running back Ben Tate, after signing him to a multi-year deal over the offseason. That means that Crowell and fellow rookie running back Terrence West are being counted on a lot more to be the consistent presence in the run game.
While we in the Atlanta-area media might now about the past for Isaiah Crowell, players like veteran wide receiver Miles Austin aren't concerned with Crowell's path to the pro's.
"I don't do any background checks on any of the guys coming in," Austin said. "I pretty much take everything as they are. Since I met him and Terrrence (West) in training camp, they've been nothing but pro's. Showing up to work on time, working hard in the weight room/practice, learning the system, and when they are coached/corrected they correct what they've been coached on."
After the win and great performance against the Falcons Crowell wasn't as concerned with how he played, yet with others being able to enjoy seeing him inside the Dome.
"It was great," Crowell said. "The best thing is that my family got to see me play. A lot of my family haven't seen me play in a while. So, that was the main thing that I was proud of."
Now that Crowell has seemingly made good on the potential that many felt he had when he ran the football with the Georgia Bulldogs, it could be a little of a relief for him. He's hoping that it's only the beginning to a long and successful career. However, he can still look back on the path to get to the NFL.
"It's been a long ride," Crowell said. "Leaving Georgia and having to go to another school to get everything back on track. That was the main thing, I knew I wanted to get here. So I wanted to take advantage of all the opportunities that God gave me."
A good redemption story is always good to see and/or hear. For Crowell, it's now just hoping that the story continues to tell itself for many years to come in Cleveland and every once in a while back in the state of Georgia.