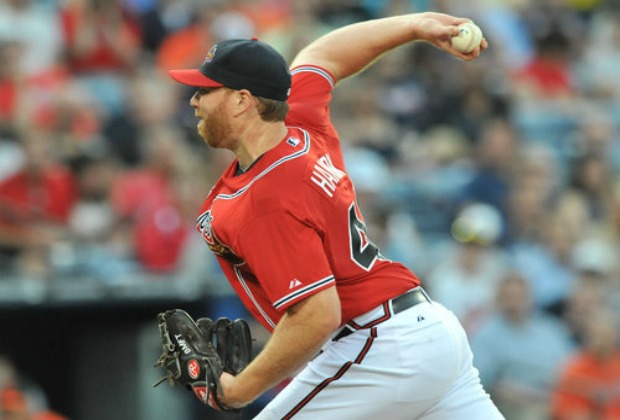 Hyosub Shin/AJC
The Braves welcomed in the worst team in baseball Monday as Atlanta tried to snap an 0-for-Monday streak to begin the season. Entering tonight's game, the Braves had lost all 10 games they had played this season when the calendar read Monday. Tommy Hanson and Jeff Samardzija matched pitches early as both starters were mowing down the opposition.
The Cubs reached Hanson first as Anthony Rizzo crushed a solo home run to center field for a 1-0 lead in the fourth inning.
The Braves would even things up in the bottom of the sixth. After a Michael Bourn double, Martin Prado would drive home Bourn, who is still alive for an All-Star spot with a two-out single. Prado would then become one of four Braves left on base throughout the game.
The Cubs would be just 1-for-7 with runners in scoring position on the night, but the one would impact the game. Luis Valbuena drove home three runs on a bases-loaded double in the seventh to push the Cubs ahead 4-1. Valbuena would end the night 2-for-4 with three RBIs.
That would be all Samardzija and the Chicago bullpen would need to earn the Game 1 victory. The former Notre Dame wide receiver Samardzija would go seven innings, striking out a career-high 11 Braves. Jason Heyward and Freddie Freeman each struck out three times. The bullpen shutdown Atlanta as James Russell picked up his second save of the year.
The loss dropped Hanson to 9-5 after the right-hander went seven, allowing four runs on seven hits while striking out eight. Atlanta will send Jair Jurrjens to the mound Tuesday to try and snap a two-game skid.