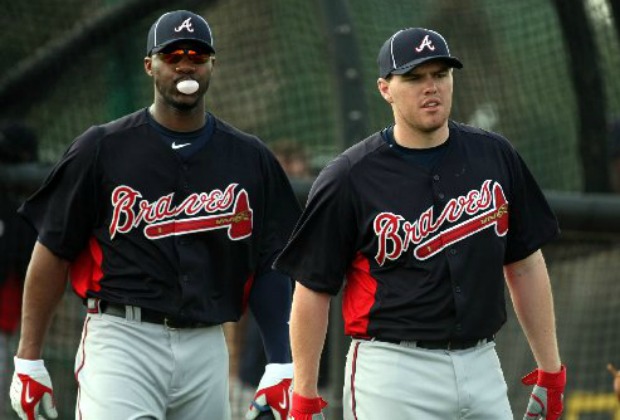 Jason Getz/AJC
The parallels are clear. A young, highly-touted phenom raised in metro Atlanta ascends the Braves' farm system and arrives at Turner Field with huge fanfare. The prospect is tall, handsome and immediately makes a splash as the right fielder for many years to come.
Sooner or later though, the uber-prospect is upstaged by his one of his closest friends. It happened over a couple of years –beginning in 2005– with Jeff Francouer making a huge splash for the Braves and even finishing third in the voting for the National League Rookie of the Year. But, by the All-Star break of the 2006 season, Francouer's buddy from Gwinnett County, catcher Brian McCann, was budding into a star.
Over the next six years, McCann would be selected as an All-Star and win the Silver Slugger award for a catcher five times. McCann was even named the most valuable player of the 2011 All-Star game.
Current first baseman Freddie Freeman appears to be re-staging McCann's ascent to baseball stardom and leapfrogging his buddy/running mate through the minor leagues. Meanwhile, right fielder Jason Heyward, like Francouer before him, steps aside and assumes the role of a wing man.
Both Francouer and Heyward were both highly touted local boys raised by the local travel ball powerhouse, East Cobb Baseball. (McCann and Francouer were actually East Cobb teammates). Both outfielders can claim to be among the major league's premier defensive players. Francouer won a Gold Glove award in 2007 for the Braves and Heyward claimed his first last year.
Francouer has carved out an enviable niche averaging about 20 home runs and 80 RBIs per 162 games, making $25 million in his nine-year career. Heyward is averaging a little more than 20 homers and 71 RBIs in his three-plus years in the bigs and will soon see his big payday
That said, Freeman is poised to become the next leader among the everyday players in the Braves' clubhouse. When the Braves have a big offensive play, the television cameras always find Freeman hugging and leading the celebration. His stats aren't bad either.
After Monday's walk-off home run against the New York Mets, his third game winning hit in as many days, Freeman's numbers for 2013 were All-Star worthy. Despite spending time on the disabled list, Freeman leads all NL first basemen in average and was no worse than third in hits and RBI.
Like McCann before him, Freddie Freeman has arrived.