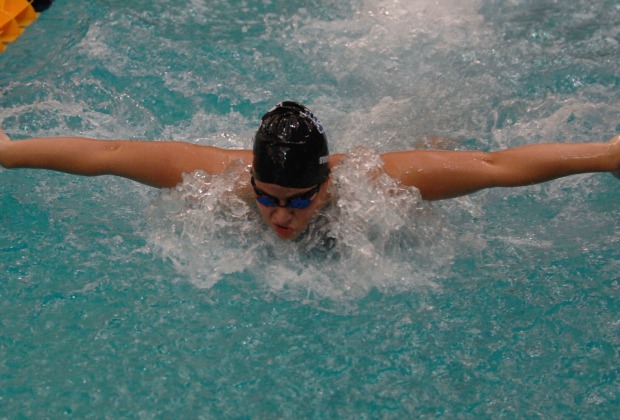 Sonny Kennedy
The Dalton boys and Westminster girls won Class A-AAAAA state swimming and diving championships Saturday at the Georgia Tech Aquatic Center.
It is yet another swimming and diving title for Westminster, which are as familiar to the school as West Paces Ferry Road, the avenue that runs just by the Buckhead school. It is the second girls championship in a row for Westminster and 21st overall.
The Wildcats took the girls championship fairly easily with 306 points, well ahead of runners-up Woodward Academy and Marist, which tied with 239 points. St. Pius came in fourth and Pace Academy rounded out the top five.
"We've got some pretty good talent that we're definitely going to miss" said Westminster coach Pete Higgins, who has been at the school since 1960. "I'm going to have to start coaching next year instead of just filling out the entry blank."
Senior Nicole Stafford led Westminster with wins in the 200 freestyle and 100 butterfly. Stafford, a Stanford signee, won the 200 freestyle event all four years of her career.
"Nicole Stafford is a real swimmer. She's the real deal," Higgins said. "She'll get after you. She's a competitor."
Dalton became the first boys swimming team from outside of metro Atlanta to win a state championship since another group of Catamounts did it in 1993, when there was only one title to be won. Coach Charles Todd's team won two of the three relay events and got wins from senior Georgia-signee Taylor Dale in the 100 backstroke and 100 butterfly to pull away from Westminster in the boys meet. Dale led his team despite suffering from mononucleosis recently.
"As a matter of fact, yesterday, we took him to the hospital after his 400-free," Todd revealed. "His blood-sugar was low, his iron was low, they were afraid his spleen was enlarged. But he toughed it out and I'm really proud of him."
Todd knew his team would have to come up with something unexpected to beat its top competition, traditional powers Marist and Westminster.
"My relay for the 400 free was like 32nd (in the state) with a slow time entered because they just had't swam any meets this year, and we moved up from 32nd to first," Todd said. "No one in Atlanta had seen this coming. We had a left hook waiting for them. We put it on them yesterday and we just stayed on top of them today."
Another big break for Dalton came in the 200 medley relay, as Marist's team forfeited due to jumping before the touch. That cost the War Eagles up to a possible 40 points and helped cause Marist to finish sixth with 133 points. Dalton totaled 192 while Westminster was runner-up with 173.
Four state records were set today in Class A-AAAAA, three by Westminster. Records fell in the boys 200 medley relay (Dalton, 1:32.93), the girls 200 medley relay (Westminster, 1:43.96), the girls 300 freestyle (Nicole Stafford, Westminster, 1:45.29) and the 400 freestyle relay (Westminster, 3:26.22).