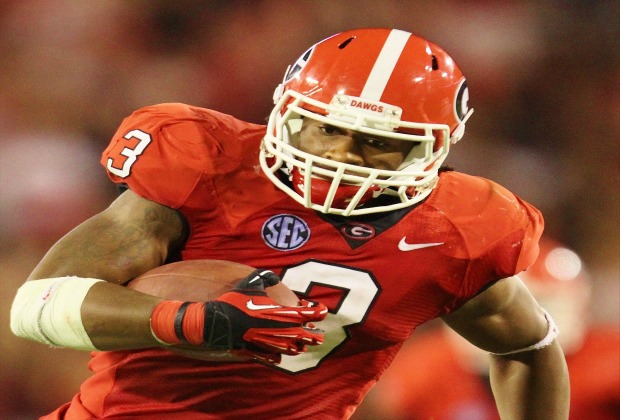 Rob Saye
After fielding one of the nation's premier defenses last season, many expected the fifth-ranked Georgia Bulldogs to be known for their defense in 2012. Four games into the season, that is not the case.
The story around the Bulldogs has been a dynamic offense that has not been present in recent years under head coach Mark Richt. For the first time in school history, Georgia has scored at least 40 points in each of its first four games. Two of those games came against lesser competition, but the other two came in routs of SEC rivals. Georgia is currently averaging 47.5 points scored per game, more than any other SEC team.
Points scored is not the only offensive category in which the Dawgs have set a school record. Georgia broke the previous school record for most yards in a game against Florida Atlantic with 713 yards, a game won by the Dawgs 56-20. The offense also racked up 567 yards against the Vanderbilt Commodores last week.
POWER RUNNING
What has been the cause of Georgia's offensive explosion this season? Has it been true freshman running backs Todd Gurley and Keith Marshall or is it Aaron Murray taking the next step as a quarterback?
The truth is both factors have played a large role in Georgia's success on offense. Gurley has been the surprise of the season for the Bulldogs and seems to improve every week. Gurley has rushed for 406 yards this season with six touchdowns through the first four games. The true freshman also has a 100-yard kickoff return touchdown to his name. Marshall has 264 yards on the young season but has seen his role increase lately.
Together, the two freshmen have taken pressure of Murray at quarterback by giving defenses another element to focus on. Besides having less weight on his shoulders thanks to Gurley and Marshall, Murray has improved this season thanks to spending the offseason working on his footwork. The quarterback is now completing 66 percent of his passes this season, a career-high thanks to his footwork and receivers.
The Georgia Bulldogs played their most complete game in recent memory last week and have a quarterback in the race for the Heisman Trophy. Unlike last year, offense is the calling card for the 2012 Bulldogs.