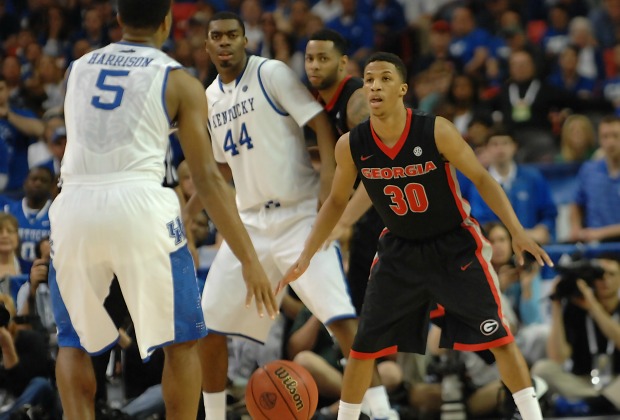 Sonny Kennedy
Kentucky eliminated Georgia from the SEC tournament and more than likely snuffed out any shot the Bulldogs had of making the NCAA Tournament with a 70-58 win in the semifinals Saturday in the Georgia Dome.
"Kentucky's a really good basketball team," said head coach Mark Fox. "To win the game we needed to play very complete basketball. We didn't rebound it well enough and just couldn't get enough stops in the second half to win the game.
The Cats needed less than four minutes to take a 10-point lead after scoring 12 of the game's first 14 points. But the Bulldogs responded by cutting the lead to 36-32 at the half.
The opening half was marred by 24 total fouls, each of which helped slow the pace of the game to a crawl. Georgia's leading scorer at the half was sub Juwan Parker, who had seven all of which came at the free throw line.
The Wildcats extended their leads back to 10 with 11:53 and had little trouble putting the Bulldogs away from that point, despite their front line being saddled with foul trouble.
Kentucky was led by Aaron Harrison's 22 points and a 9-for-16 shooting performance from beyond the arc. The Cats also out-rebounded Georgia 36-21, the largest such disparity for Georgia all year.
Georgia's leading scorer was guard Kenny Gaines, who had 13. Charles Mann, last night's hero, added 12. The Bulldogs were just 3-for-13 from beyond the arc.
Coach John Calipari's squad is the only team to have defeated the Bulldogs twice this season. The Cats advanced to the final where they will meet No. 1 Florida.
Kentucky improved to 9-1 all time against Georgia in the SEC tournament. Georgia's only win came in the 2008 edition of the tournament, which the Bulldogs went on to win.