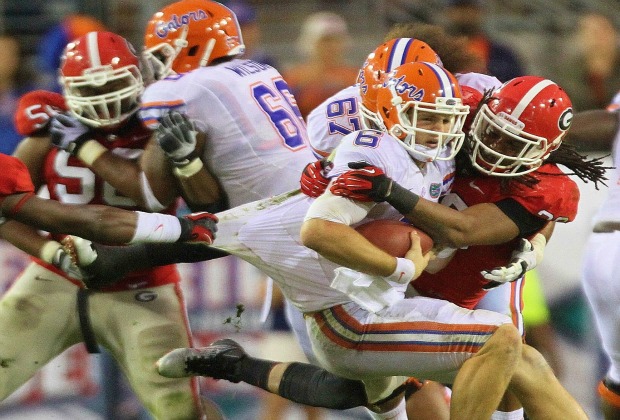 Rob Saye
The fifth-ranked Georgia Bulldogs head to Auburn toady to take on the Tigers in their final SEC game of the season. A win would mean a return trip to Atlanta for the Dawgs and a possible date with No. 1 Alabama.
Known as the Deep South's Oldest Rivalry, there has always been a great deal of passion involved with this game. However, the two teams enter the game on opposite sides of the spectrum.
ONTO THE PLAINS
Georgia is ranked fifth in the BCS standings and is coming off a comeback victory against Ole Miss, in which the Bulldogs scored 37 unanswered points. Quarterback Aaron Murray, who is enjoying a career year, threw for 384 yards and four touchdowns against the Rebels. Also enjoying a great performance was a Georgia defense that held the Rebels scoreless in the second half. Saturday's game marked the second consecutive successful appearance by a defense that was previously much-maligned for its underperformance.
"I'm just glad that now it looks like everybody is really gaining confidence and everybody is playing with a lot of intensity," said Georgia head coach Mark Richt about the recent play of his defense. "There are guys flying to the ball. We're getting more turnovers because of it in my opinion. We're just having more fun."
While Georgia is firing on all cylinders and in the midst of an SEC championship run, Auburn finds itself in the figurative cellar of the SEC. The Tigers are coming off a 42-7 thumping of New Mexico but still own a 2-7 record on the season. Auburn has been through three quarterbacks this season, settling on true freshman Jonathan Wallace as the team's starter.
Having not won an SEC game all season, Auburn is a game some have Georgia already winning, but the Bulldogs are not foolish enough to overlook their opponent.
"They're going to come out and be pumped," said Murray of the atmosphere at Auburn. "It's a 7:00 game, the crowd will be rowdy and we'll be dealing with crowd noise. Those guys are playing for respect and they're trying to ruin our season, so I know they'll be excited. We're definitely going to have to be ready to go and we know we have a huge challenge ahead of us."