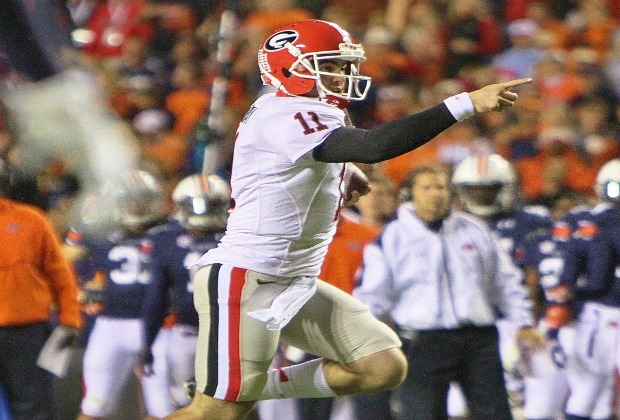 Rob Saye
After much deliberating over whether to prolong college careers or seek fame in the NFL, Georgia's four prominent juniors have made their decisions. Georgia will lose at least three of its defensive stars to the NFL Draft in linebacker Alec Ogletree and two time All- American linebacker Jarvis Jones. Wednesday, defensive tackle Kwame Geathers also declared for the draft. However, the Bulldogs will retain their primary offensive star in quarterback Aaron Murray.
"I'm certainly pleased that, after weighing his options, Aaron (Murray) has decided to remain at Georgia for his senior year," said Georgia head coach Mark Richt. "His leadership and productivity have been tremendous during what has been an outstanding career. This is great for Aaron and great for Georgia."
Unlike Jones and Ogletree, Murray had no idea where he would be drafted. The quarterback filed paperwork to the NFL in order to get an idea of where he could expect to be drafted, yielding a prediction of a second- or third-round selection. Murray also sought out the advice of former NFL coach Tony Dungy and former quarterback Archie Manning.
While Murray conducted a great deal of research on what would be best for his future, he revealed in a Monday press conference that it really was not that hard of a decision at all.
"As soon as that clock hit zero at the Georgia Dome (at the SEC Championship) I had pretty much decided, but I knew I had to settle down and not let emotions take over," Murray said. "I just had to go through the process, talk it over with my parents, relax and think it over, but at that moment I pretty much knew."
Murray will be one of many pieces that will return from the 2012 offense, the most explosive in school history. The quarterback owns nearly every passing record at the university except for David Greene's career passing yards mark of 11,528. Murray is 1,438 yards away from that mark.
MASON JARRED …
While many Georgia fans, coaches and players alike are elated that Murray is returning, there is one player that may not be as excited: backup quarterback Hutson Mason.
Mason sat out the season as a redshirt year in order to create a gap year between himself and Murray. Mason has said he is not interested in transferring from Georgia.